Table of Contents
Perception is Not Reality!
Sometimes I see a study or a chart that truly is eye-opening. For instance, I'm reading a book right now on Genghis Khan. Did you know in 25 years he and the Mongol army took control of more people and land than the entire Roman empire did in over 400 years? Fascinating, right? Although I am 10 pages in and clearly a Genghis Khan expert I figured I'd turn this blog into a different type of eye-opening data, investments!
The Perception of the Best Long Term Investment
I recently came across the below Gallup Poll on what Americans' perceptions of the best long-term investment are. Before you cheat ahead here are the categories:
Gold
Stocks
Savings Accounts
How do you think Americans ranked these 5? The more interesting question, or at very least equally interesting, is how do you think these 5 categories performed? Let's first take a look at what we thought would perform best through worst.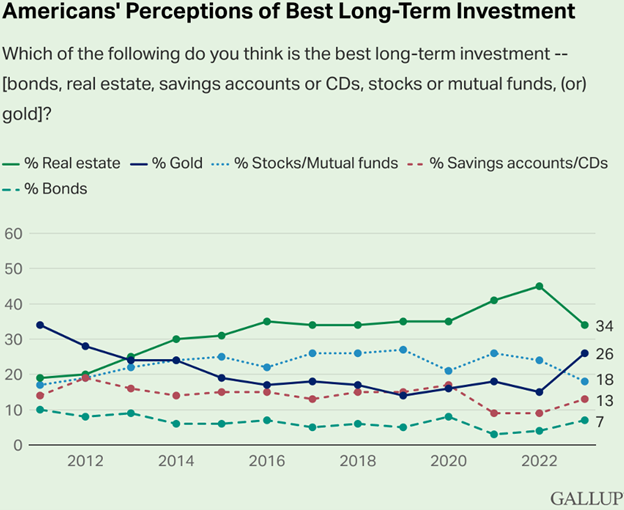 As you can see from the chart above, real estate garnered over 1/3 of the guesses. Next, on the return list was gold which got over a quarter of the votes. Between gold and real estate, they took up 60% on average of what people thought would be the best-performing asset class. From there stocks came in at 18%, savings accounts at 13%, and lowly bonds bringing up the rear at 7%.
Perception Vs Reality
Before I go over what the reality was, I find it very interesting, to say the least. A large majority of people think their homes are the best investment we can make from a return standpoint. I suppose I am not shocked by this, while simultaneously I am blown away by this. What I find almost as fascinating is that literal gold somehow comes in second. How many of you own gold, or follow its performance? Do we not realize that gold is a basic commodity that doesn't truly provide any value?
Furthermore, stocks garnering 18% shocks and frightens me. It is one of the easiest asset classes to own and more than any of these other categories best represents the global economy. That said let's have a look shall we and see how these categories are stacked up?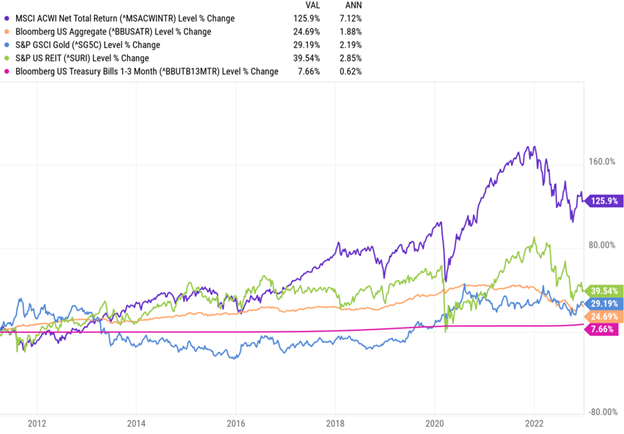 The data runs from 1/1/2010 through 12/31/2022. Below are the indexes for each asset class:

Stocks – MSCI All-Country World Index Total Return Index

Bonds – Bloomberg US Aggregate Index

Gold – S&P GSCI Gold Index

Real Estate – S&P US REIT Index

Cash – Bloomberg US Treasury Bills 1-3 Month
I decided to use the MSCI All-Country World Index to represent the global stock market. As you can see since 2010, by far the best-performing asset class was the stock market. Remember, this is after an atrocious year in the markets in 2022, and yet still stocks over a 12-year span performed over 3 times better than the next closest category, real estate. As a matter of fact, stocks since 2010 cumulatively performed 125.9%. If you instead took all of the other categories combined, you would have grown your assets only 100% over that period of time.
So, what gives? Why do we as investors shun or refuse to accept the reality that stocks are still by far the greatest wealth accumulation vehicle I've ever known? I have a few strong theories on why such a disconnect.
Stocks are volatile. By far on this list stocks move the quickest and fluctuate the greatest. Heck, in 2020 at one point there were down over 30% and ended the year up 20% with a 50% swing.
Stocks are misunderstood. I think a vast majority of people don't fully understand what they are buying when they purchase stocks. If you truly think about it, at the end of the day if you own a diversified portfolio you literally own the fabric of our economy, corporations.
Investors are bad at investing. There are a million charts out there that show how poorly the end investors do compare to markets. Most investors tend to act emotionally and make big rash decisions at the worst of times. These detrimental behaviors can have a lasting negative effect on your investment experience.
The darn news. Isn't it fun to beat up on the stock markets? Additionally, what else is valued every single day good, bad, or indifferent? It leads off newscasts, takes up front-page headlines, and is catnip for us skittish investors. It would be the equivalent of you being on a diet and the entire world commenting on everything you ate while weighing you every second of every day.
Facts are facts folks
I know it is a hard pill to swallow, especially when our wounds are still fresh from last year's market beating. That said facts are facts, and reality is reality. If I go back further it is more of the same, but I thought this would be a truly eye-opening study worth sharing. The best thing most of us can do is get out of our own way if we want to let this amazing wealth-creating machine work its magic.
Stay wealthy, healthy, and happy.