Table of Contents
A Resilient Economy and Moderating Inflation Push Equity Markets Higher
Second quarter US GDP growth and cooling inflation helped boost equity markets higher last week. Global equities (represented by the MSCI All Country World Index) were up 1.18%, and domestic stocks (represented by the S&P 500 Index) were up 1.03%.
GDP
The Department of Commerce's initial report of second quarter GDP showed a surprising 2.4% annualized growth rate, beating estimates of 1.8% and the previous quarter's 2.0% rate. This marks the fourth consecutive quarter of growth following declining GDP readings for the first two quarters of 2022. While consumer spending continued to increase but at a slower pace, private inventory investment and nonresidential fixed investment (nonresidential structures, equipment, and software) helped propel GDP growth above the previous quarter.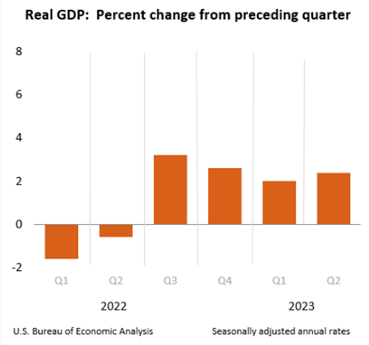 Rate Range
As heavily expected, the US Fed raised the federal funds target rate by 0.25% last Wednesday to conclude their policy meeting. This decision raises the target range to 5.25-5.50%, the highest level since 2001. Fed Chair Jerome Powell's press conference following the meeting emphasized they do not have a decision on future rate hikes and will continue to monitor incoming data. However, markets interpreted the press conference and official statement from the Fed as less hawkish, now expecting rates to remain the same through January 2024 and potential rate cuts in March 2024.
PCE Index
The Personal Consumption Expenditures (PCE) Price Index rose at an annual rate of 3.0% in June, down from the previous month's 3.8% reading. Core PCE inflation, the Fed's preferred gauge of inflation, rose 4.1% year-over-year, the slowest rate since September 2021.
Q2 Earnings
With over 50% of S&P 500 companies reporting Q2 earnings, 80% have reported positive earnings surprises, higher than the 5-year average of 77% according to FactSet. However, profit margins continue to shrink as they're on pace for the sixth consecutive quarterly decline. The average net profit margin of S&P 500 companies peaked in Q2 2021 at 13.0% but are currently sitting around 11.1%.
Labor Market
This week the monthly labor market update for July will be reported by the Bureau of Labor Statistics. In June, the labor market continued to expand, however, only generating 209,000 jobs which missed estimates and was the lowest monthly addition since December 2020. The Institute for Supply Management (ISM) will also report their manufacturing and services indexes for July. While the services sector has remained in expansionary territory for the past 6 months, the manufacturing sector has been contracting and trending lower since November 2022.
I'd like to leave you with the final line we've used since we started these commentaries back at the very height of market volatility in March 2020. Always remember that we create financial/investment plans not for the easy times, but to prepare for the tough ones.