Equities Fall on Inflation and Earnings Releases
Equity markets pushed lower last week as inflation and earnings releases were weighed by investors. Global equities (represented by the MSCI All Country World Index) were down -1.93%, and domestic stocks (represented by the S&P 500 Index) were down -1.53%.
Producer Price Data
Producer price and consumer price data were released Wednesday and Thursday respectively, both with higher surprises. Producer prices rose 0.4% month-over-month for September while consensus expectations were around 0.2%. Consumer prices dropped to 8.2% on an annual basis from August's 8.3% reading, however, the core reading (excluding food and gas) rose to a four-decade high of 6.6%.
Retail Sales
September's US retail sales release was flat after the previous month's 0.4% rise. Retail sales is not an inflation-adjusted figure, thus it can be implied that consumer spending in this area has slowed among higher prices and rising rates.
Treasury Yields
Yields continued to climb as the US 10-year Treasury yield breached 4.00% for the first time since 2008 and the 2-year breaking 4.50% for the first time since 2007. Yields moved quickly as they reacted to the consumer price data released Thursday.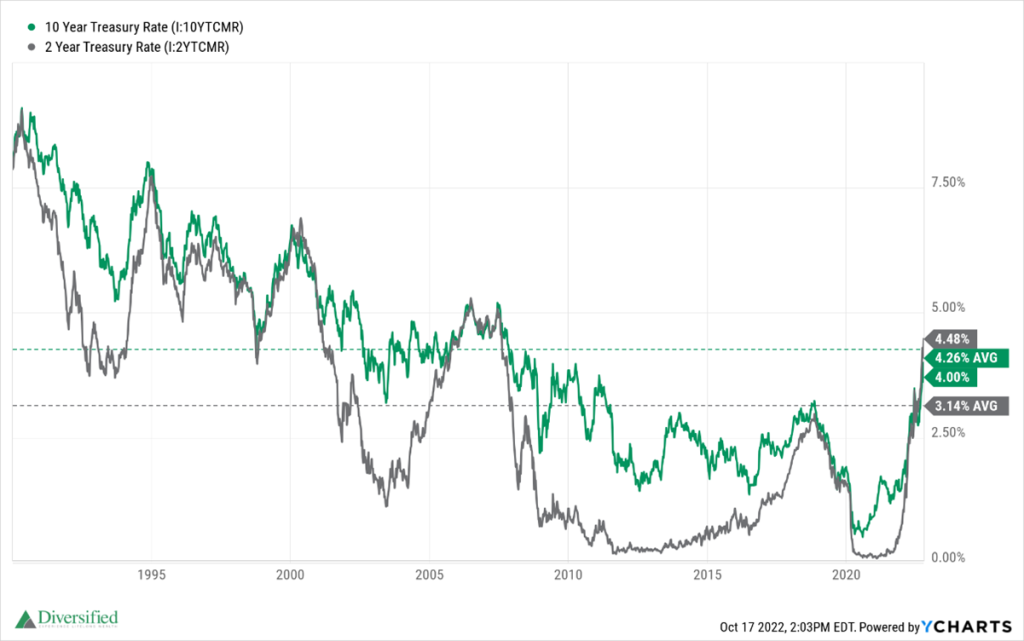 Earnings Season
Earnings season kicked off with banks releasing mixed results. According to FactSet, 7% of S&P 500 companies have reported Q3 earnings with 69% having a positive EPS surprise. However, forecasts for S&P 500 companies' Q3 earnings were estimated at an average of 2.4% which would be the lowest growth rate since Q3 2020.
Housing Data
The week ahead will bring plenty of housing data for September including home sales, housing starts, and building permits. We will also receive the September reading of the US Industrial Production Index as well as continued company earnings releases.
I'd like to leave you with the final line we've used since we started these commentaries back at the very height of market volatility in March 2020. Always remember that we create financial/investment plans not for the easy times, but to prepare for the tough ones.