Table of Contents
Equities Slip Amid Fed Decision and Labor Market Update
Equity markets slipped last week amid the Fed's most recent rate decision and a key labor market update. Global equities (represented by the MSCI All Country World Index) were down -0.35%, and domestic stocks (represented by the S&P 500 Index) were down -0.78%.
US Fed Raises Rates
Last Wednesday, the US Fed raised rates by 0.25% as expected, marking the 10th straight hike since March 2022. The change of language in the FOMC statement and Fed Chair Jerome Powell's press conference encouraged investors that the Fed may be at the end of the rate-hiking cycle. However, Powell also enforced that interest rate cuts "would not be appropriate" with the current elevated inflation levels. The market is heavily pricing in a pause in interest rate movements for the next FOMC meeting in June. 

Labor Market
The labor market continued to show its relative resilience for the US economy in April even with higher rates and the uncertainty around economic growth. The Bureau of Labor Statistics reported the addition of 253,000 nonfarm payrolls for the month, a bounce back from March's 165,000 and above expectations of 179,000. The unemployment rate fell slightly to 3.4%, which is the lowest rate since 1969. 
Earnings
First quarter earnings have now been reported by around 85% of S&P 500 companies, and results have generally been positive compared to their one-year averages and expectations. The blended earnings for the S&P 500 for the quarter so far is -2.2%, compared to estimates from March 31st of -6.7% according to FactSet. 10 of the 11 sectors are reporting higher earnings for Q1 versus earlier estimates.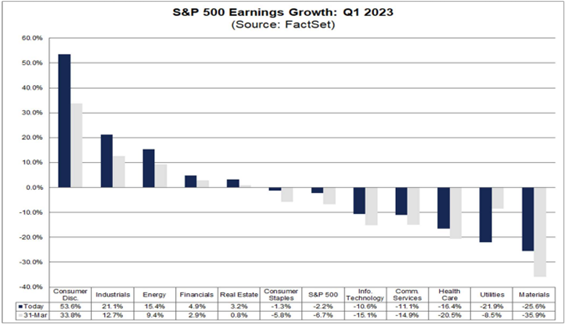 Consumer Price Index
This week the Consumer Price Index will be reported for April which will show if the moderating inflation trend continued for the month. March's headline inflation reading fell to 5.0% year-over-year compared to the previous month's 6.0% rate.
I'd like to leave you with the final line we've used since we started these commentaries back at the very height of market volatility in March 2020. Always remember that we create financial/investment plans not for the easy times, but to prepare for the tough ones.