Table of Contents
Equities Trade Lower Amid Inflation Check and US Debt Ceiling Concerns
Equity markets traded slightly lower last week amidst the latest inflation check and concerns around the US debt ceiling. Global equities (represented by the MSCI All Country World Index) were down -0.42%, and domestic stocks (represented by the S&P 500 Index) were down -0.24%.
Consumer Price Index
The latest reading of the US Consumer Price Index (CPI) showed the disinflation trend continuing through April. Headline CPI rose at an annual rate of 4.9%, lower than expectations and last month's reading of 5.0%. Core inflation (excludes food and energy) also ticked lower to 5.5% year-over-year, down from 5.6% in March. "Supercore" inflation (core services inflation excluding shelter) has been a focus of the Fed, and the reading showed a 0.1% rise for the month which was the lowest reading in almost 3 years. With the continued slowing of inflation, markets now expect less than a 25% probability of a rate hike at the next June FOMC meeting according to CME's FedWatch Tool.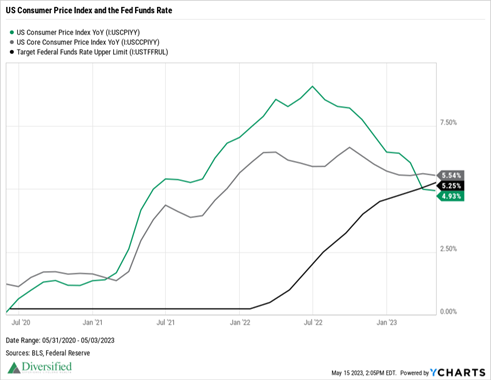 Debt Ceiling
Headlines around the debt ceiling continue to weigh on investor sentiment along with the recent banking issues and tightening credit conditions. US Treasury Secretary Janet Yellen has warned that the Treasury may exhaust its extraordinary measures to pay government obligations as early as June 1st. President Biden and congressional leaders meet this Tuesday in an effort to raise or suspend the debt limit. The US has never defaulted on its debt, and Congress has raised the debt ceiling 78 times since 1960 with 20 of those instances happening in the last two decades.
Earnings
With first quarter earnings season almost finished, 78% of S&P 500 companies have beaten earnings expectations so far, ahead of the 10-year average of 73% according to FactSet. While there have been many positive earnings surprises, the blended earnings for the S&P 500 so far is a decline of -2.5% which would mark the second consecutive quarter of falling earnings.
Retail and Housing
The weekly economic calendar is slated to have releases on retail sales and the housing market. US retail sales were below expectations falling -1% for the month of March. Housing starts and existing home sales will be released this week to give insight on housing market activity following a drop in both in March.
I'd like to leave you with the final line we've used since we started these commentaries back at the very height of market volatility in March 2020. Always remember that we create financial/investment plans not for the easy times, but to prepare for the tough ones.