Equity Markets Fall While Treasury Yields Rise
Global equities fell for the third straight week to close out August. Global markets (represented by the MSCI All Country World Index) were down -3.27% and domestic stocks (represented by the S&P 500 Index) were down -3.23%.
Unemployment Rates
The Department of Labor reported Friday that 315,000 nonfarm jobs were added to the economy in August which exceeded estimates of 300,000. The unemployment rate rose by 0.2% from the previous month to 3.7% but was also influenced by an increased number of individuals entering the labor force. Wage growth is also moderating from elevated levels down to 5.2% on an annual basis.
PMI
The Institute of Supply Management's Manufacturing PMI remained steady in August from the previous month. The reading shows that the manufacturing sector is continuing its steady expansion aided by rising new orders and lower prices from the previous month.
Labor Market Data and Treasury Yields
The strong labor market data and encouraging manufacturing data contributed to surging US Treasury yields. The 10-year US Treasury yield rose to 3.20% on Friday while the 2-year US Treasury yield climbed to 3.52% on Thursday and closed the week at 3.40%. Markets continue to evaluate the direction and pace of future Federal Reserve rate moves as they consume economic data releases. The current expectation of fed funds rate movements includes a hike of 0.75% in September followed by 0.50% in November and 0.25% in December, ending the year at a 4.00% upper target.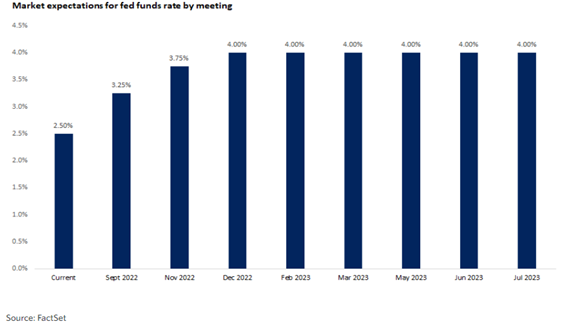 I'd like to leave you with the final line we've used since we started these commentaries back at the very height of market volatility in March 2020. Always remember that we create financial/investment plans not for the easy times, but to prepare for the tough ones.