Global Equities Fall on Mixed Retail Earnings
Global equities fell last week to break their four-week winning streak. Global markets (represented by the MSCI All Country World Index) were down -1.60% and domestic stocks (represented by the S&P 500 Index) were down -1.16%.
Retail Sales
Retail sales data for July was released last week which was better than expectations. Retail and food sales (excluding gas and autos) rose 0.7% from the previous month showing signs that consumer spending has continued despite high inflation. US weekly initial jobless claims dropped from the previous week although consensus expected an uptick.
Home Sales
Existing home sales fell in July for the sixth straight month as higher mortgage rates and higher home prices have put pressure on the housing market. The National Association of Realtors reported a drop in existing home sales of -5.87% from the previous month.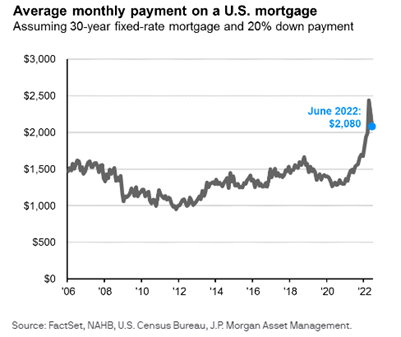 Retail Earnings Report
Walmart and Target headlined retail earnings reports last week with mixed results. While Walmart posted a positive earnings surprise and raised earnings guidance for the coming year, Target reported a decline in earnings as they manage their inventory with discretionary goods spending pulling back by the consumer.
Bond Prices
Government bond prices fell with the market pricing in more aggressive moves by the Federal Reserve. The 10-year US Treasury yield rose nearly back to 3.0% on Friday which is its highest level in nearly a month. The US Fed holds its annual economic policy symposium in Jackson Hole starting this Thursday which may give more insight into the central bank's current views on inflation and the economy.
I'd like to leave you with the final line we've used since we started these commentaries back at the very height of market volatility in March 2020. Always remember that we create financial/investment plans not for the easy times, but to prepare for the tough ones.