Inflation and Sentiment Continue to Put Pressure on Stocks
Global equity markets fell across the board last week. We saw global markets (represented by the MSCI All Country World Index) down -4.4% and domestic stocks (represented by the S&P 500 Index) down -5.0%.
Inflation
On Friday, the U.S. Bureau of Labor Statistics released its May Consumer Price Index (inflation) report. It surprised to the upside, showing an 8.6% year-over-year climb. It was energy and food that continue to drive prices higher. Excluding energy and food (which is called core inflation), the May figure was 6.0%. Both figures came in above expectation and spooked investors.
Federal Reserve Rates
Investors had been optimistic that inflation had peaked back in March, however, the report last week showed that thought to be premature. All eyes turn to the Federal Reserve meeting this week where interest rates will once again be increased. What we saw on Friday was the market increasing a higher probability that the Fed will raise rates by 0.75% instead of 0.50%. We will get that announcement on Wednesday from Fed Chair Jerome Powell. The Fed has already stated their preference for 0.50% increases in June and July and were hoping to reduce to 0.25% beginning in September. Below is now what the market is pricing in for September.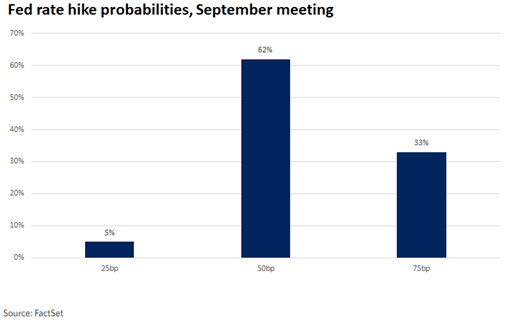 Consumer Sentiment
The combination of inflation, higher interest rates, and geopolitics continues to weigh on consumers. The University of Michigan Index of Consumer Sentiment came out last week and recorded its lowest score ever in its history, which dates to the 1970s. The survey asks random consumers questions about their feelings on financial and economic conditions moving forward. This reading has clearly diverged from consumer spending, which continues to remain strong despite the drop in sentiment.
Bond Market
As markets price in new information, the bond market has quickly become a much more attractive place to invest. Just over two years ago in March 2020, 10-year government bonds yielded investors just over 0.50% per year. After all of the action over the last 6-7 months, that same bond now yields an investor 3.15% per year.
I'd like to leave you with the final line we've used since we started these commentaries back at the very height of market volatility in March 2020. Always remember that we create financial/investment plans not for the easy times, but to prepare for the tough ones.