Stocks were mostly positive last week. We saw global markets (represented by the MSCI All Country World Index) up 0.7% and domestic stocks (represented by the S&P 500 Index) up 0.8%.
The U.S. has been facing a debt ceiling issue, where Congress will be needing to raise the level and allow the Treasury Department to borrow to pay bills. With the deadline approaching, a bipartisan agreement was reached to push the issue until December. The same issue remains; however, there is now about two-month time for policymakers to figure it out.
The September monthly jobs report was released on Friday. In disappointing news, payrolls increased by only 194,000, which was about 300,000 below expectations. While the unemployment rate dropped to 4.8%, most of that was due to the labor force participation rate dropping.
Oil prices continue their ascent for the seventh week in a row. At points last week, the price per barrel rose about $80 before settling just under that mark at the end of the week.
Now that the third quarter is complete, we turn our attention to corporate earnings. As they do every quarter, major banks will kick us off and expectations are high for earnings in general moving forward. As many people know, supply chains have been a major issue for businesses worldwide. Below is a compiled list from FactSet that tracks the various issues companies have discussed during their earnings calls. As expected, both supply chain issues and labor costs/shortages lead the list.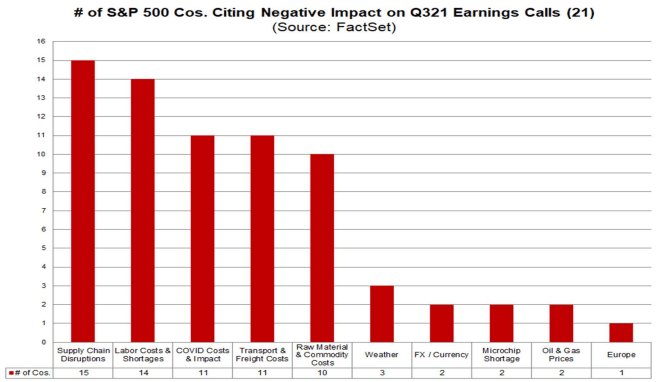 I'd like to leave you with the final line we've used since we started these commentaries back at the very height of market volatility in March 2020. Always remember that we create financial/investment plans not for the easy times, but to prepare for the tough ones.