Markets Rally on Earnings Surprises
Global equities rose last week among better-than-expected earnings and slowing economic data. We saw global markets (represented by the MSCI All Country World Index) up 3.19% and domestic stocks (represented by the S&P 500 Index) up 2.56%.
Q2 Earnings
As around 21% of S&P 500 companies have reported Q2 earnings, last week's reports were welcomed by investors as they were seen as not as bad as expected. Netflix rose 17% as they reported a decline of only 1 million subscribers in Q2 while expectations were for a 2 million subscriber loss. While many reports indicated economic slowing, corporate profits remained sturdy with 68% of companies exceeding net income expectations (source: FactSet).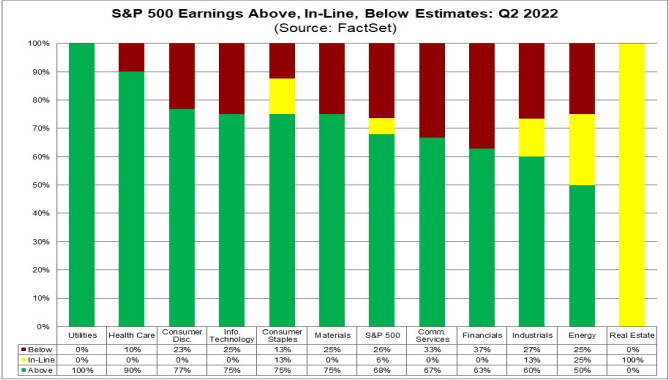 Unemployment
Weekly Unemployment Claims were reported as 251,000, rising for the third week in a row. While rising, the number is still below the average going back to 1990 of around 382,000.
European Central Bank Rates
The European Central Bank raised rates for the first time since 2011, reminding investors that inflation is a global headwind. The ECB hiked rates 0.50% which was a larger than expected jump.
Federal Rate Increase?
This week we focus on the Fed's decision on another interest rate increase in Wednesday's policy meeting. Q2 GDP will be reported Thursday by the US Bureau of Economic Analysis, and US Personal Consumption Expenditures will also be released. These metrics plus more corporate earnings will give insight into the overall health of the US Economy, the consumer, and inflation.
I'd like to leave you with the final line we've used since we started these commentaries back at the very height of market volatility in March 2020. Always remember that we create financial/investment plans not for the easy times, but to prepare for the tough ones.