Table of Contents
Equities Drop as Fed Emphasizes Hawkish Stance; SVB Shutdown
Equity markets fell sharply last week following the Fed testimony before Congress, the labor market update, and the shutdown of Silicon Valley Bank. Global equities (represented by the MSCI All Country World Index) were down -3.56%, and domestic stocks (represented by the S&P 500 Index) were down -4.51%.
Hawkish Tone
US Federal Reserve Chair Jerome Powell's testimony before Congress on Tuesday brought upon a more hawkish tone, resetting expectations for future rate hikes. He emphasized the Fed's goal of bringing inflation back down to their 2% long-term target, and he noted that recent economic data has been stronger than originally forecasted which could lead to an increase in the pace of tightening and the potential for higher rates for longer before switching courses to loosening policy.
Labor Market
The US Labor Market continued to exceed expectations as the economy added 311,000 nonfarm payrolls in February, well above Bloomberg's consensus survey of 225,000 jobs. The unemployment rate inched higher to 3.6% in February, up from 3.4% in January. Moderation in wage growth has been received as a positive sign related to alleviating inflationary pressures. US Average Hourly Earnings continued to slow for the third straight month to a month-over-month rate of 0.2%.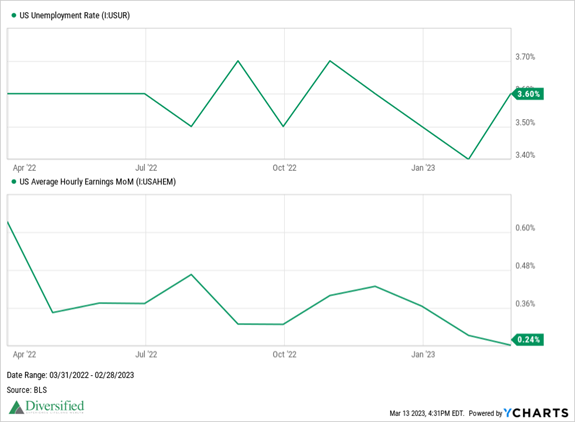 Silicon Valley Bank
The regulatory shutdown of California-based Silicon Valley Bank spooked markets as volatility surged Friday, and smaller regional banks with similar clientele were also hit hard as the government stepped in to ensure depositors' cash. The S&P 1500 Regional Banks sub-industry index fell over 15% just last week. While the Federal Reserve stated SVB was the 16th largest bank in the US in terms of total deposits, SVB only had $200 billion of domestic assets compared to the $19.8 trillion in the US banking system.
Looking ahead to this week, the Consumer Price Index is slated to be released Tuesday following the last report for January of a 6.4% annual rise which was higher than expected. Other data to be released for the week includes retail sales, housing starts and building permits.
I'd like to leave you with the final line we've used since we started these commentaries back at the very height of market volatility in March 2020. Always remember that we create financial/investment plans not for the easy times, but to prepare for the tough ones.