Table of Contents
Equities Rise Despite Retail Sales Miss
Equity markets pushed higher despite weaker-than-expected retail sales and continued concern over US debt ceiling negotiations. Global equities (represented by the MSCI All Country World Index) were up 1.17%, and domestic stocks (represented by the S&P 500 Index) were up 1.71%.
US Retail Sales
US retail sales rose by 0.4% in April, breaking the streak of declining months in February and March. While appearing as a positive, the figure was below consensus expectations. Sales in sporting goods and home furnishings contributed to a lower reading, and the data fell in line with recent commentary from retailers that demand for discretionary items may be falling.
US Debt
The overarching concern that the US government will be unable to pay its bills as early as June 1st continues to be a focus on investors' minds. While no deal has been made yet, the view around debt ceiling negotiations turned more optimistic last week. Wednesday's comments from Democratic Senate Leader Chuck Schumer and Republican House Speaker Kevin McCarthy that a bipartisan deal is a necessity and "doable". President Biden also emphasized that he is confident there will be no default. However, optimism dimmed Friday as Republican negotiators paused discussions due to conflict on government spending levels. Debt ceiling talks resumed Monday morning, and President Biden and House Speaker McCarthy are scheduled to meet Monday afternoon.
Labor Market
The labor market continued to show its resilience as weekly jobless claims were lower than expected. US initial claims for unemployment insurance fell to 242,000, down from 264,000 the previous week which was the highest level since November 2021.
S&P 500
With 95% of S&P 500 companies reporting first quarter earnings, 78% of companies have reported positive earnings surprises according to FactSet. While the blended earnings rate may decline for the second consecutive quarter, profit margins have actually ticked upwards.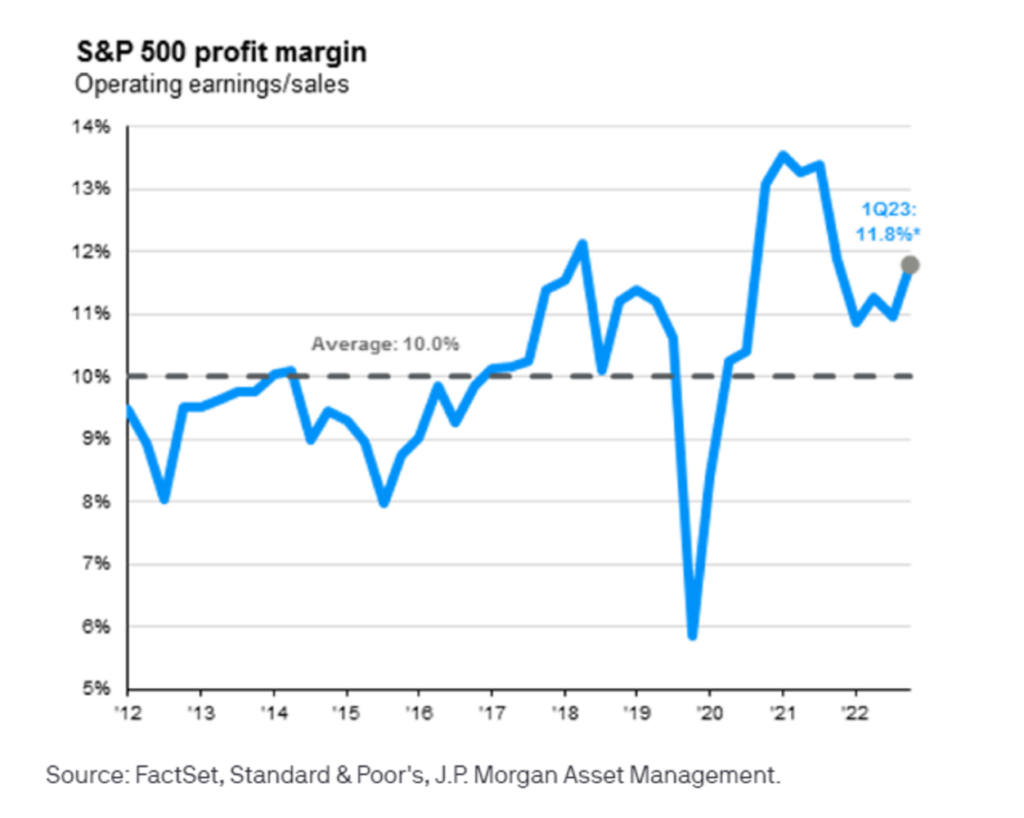 Personal Consumption Expenditure
This week the minutes from the latest Federal Reserve policy meeting will be released which will give more insight into the Fed's recent views on rates. The next policy meeting will be in June. The Personal Consumption Expenditure (PCE) Price Index will also be released this week which will provide another reading of inflation and household spending for the month of April.
I'd like to leave you with the final line we've used since we started these commentaries back at the very height of market volatility in March 2020. Always remember that we create financial/investment plans not for the easy times, but to prepare for the tough ones.