Table of Contents
Equities Roar Back as Yields Retreat
Equity markets roared back following consecutive weeks of declines. Global equities (represented by the MSCI All Country World Index) were up 5.31%, and domestic stocks (represented by the S&P 500 Index) were up 5.88%.
FOMC Meeting
In a heavy week of economic data reports and corporate earnings, the US Federal Reserve's FOMC meeting took center stage for investors. The meeting concluded Wednesday with the decision to keep rates steady, which was much expected. The Fed has now kept their benchmark rate unchanged in consecutive meetings, but the target rate range still sits at 5.25-5.50%, the highest level in decades. Comments by Fed Chair Powell were taken positively by investors as he focused on the progress of inflation trending lower.
US Labor Market
October's jobs report showed a cooling in the US labor market as the economy generated 150,000 nonfarm payrolls for the month, down from 297,000 the month prior. Average hourly earnings decelerated to an annual rate of 4.1%, the slowest pace since June 2021. The unemployment rate also ticked up to 3.9%, the highest rate since January 2022. The weaker-than-expected job growth and moderating wage growth signal softening in the labor market which is seen as a factor for the Fed to no longer raise rates.
Treasury Yields
Treasury yields shifted as markets reacted to the Fed's decision and economic data releases. The 10-year yield fell below 4.50% Friday on intraday trading, retreating from 4.83% from the prior week and off its highs of nearly 5% seen just two weeks ago. The 2-year yield also pulled back, falling below the 5% level it has generally been sitting above since mid-September.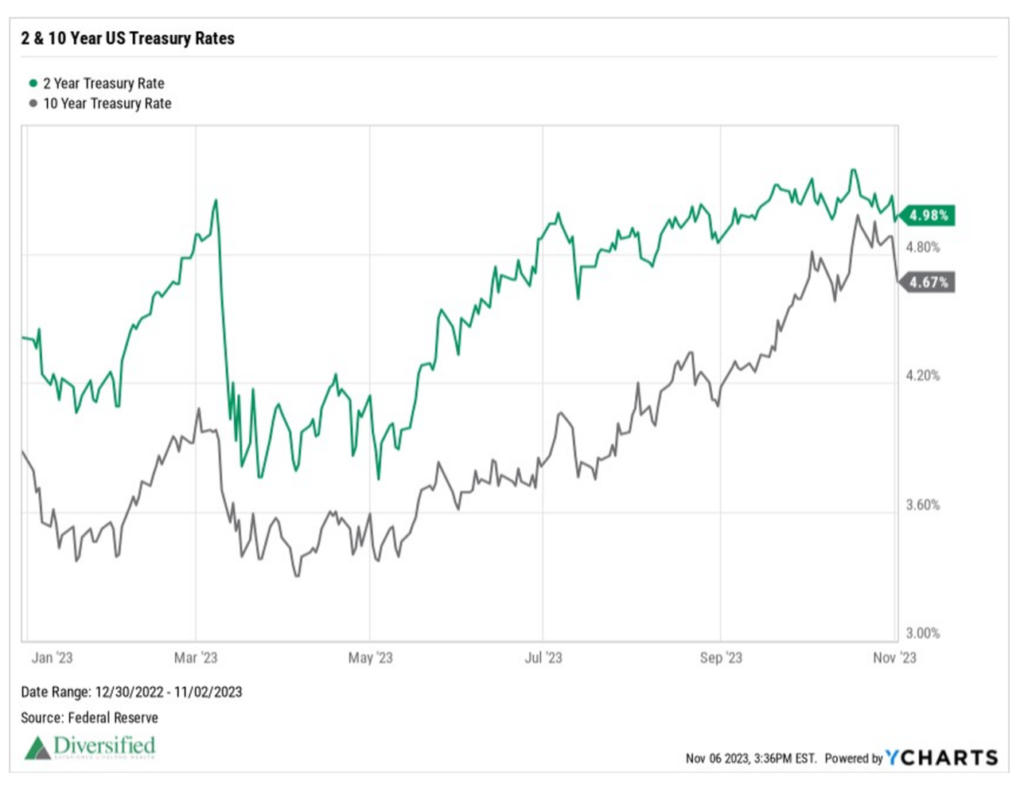 I'd like to leave you with the final line we've used since we started these commentaries back at the very height of market volatility in March 2020. Always remember that we create financial/investment plans not for the easy times, but to prepare for the tough ones.