Table of Contents
Equities Slide as Yields Continue to Rise
Equity markets retreated last week as yields continued to rise. Global equities (represented by the MSCI All Country World Index) were down -2.49%, and domestic stocks (represented by the S&P 500 Index) were down -2.38%.
US Treasury
The 10-year US Treasury yield continued to hit levels not seen in over a decade. The 10-year rate briefly reached 5.00% on Thursday, the highest level since 2007. The shorter-term 2-year treasury yield also rose during the week, reaching nearly 5.2%. Higher rates have weighed on bond prices with the Bloomberg US Aggregate Bond Index now down -3.13% year-to-date.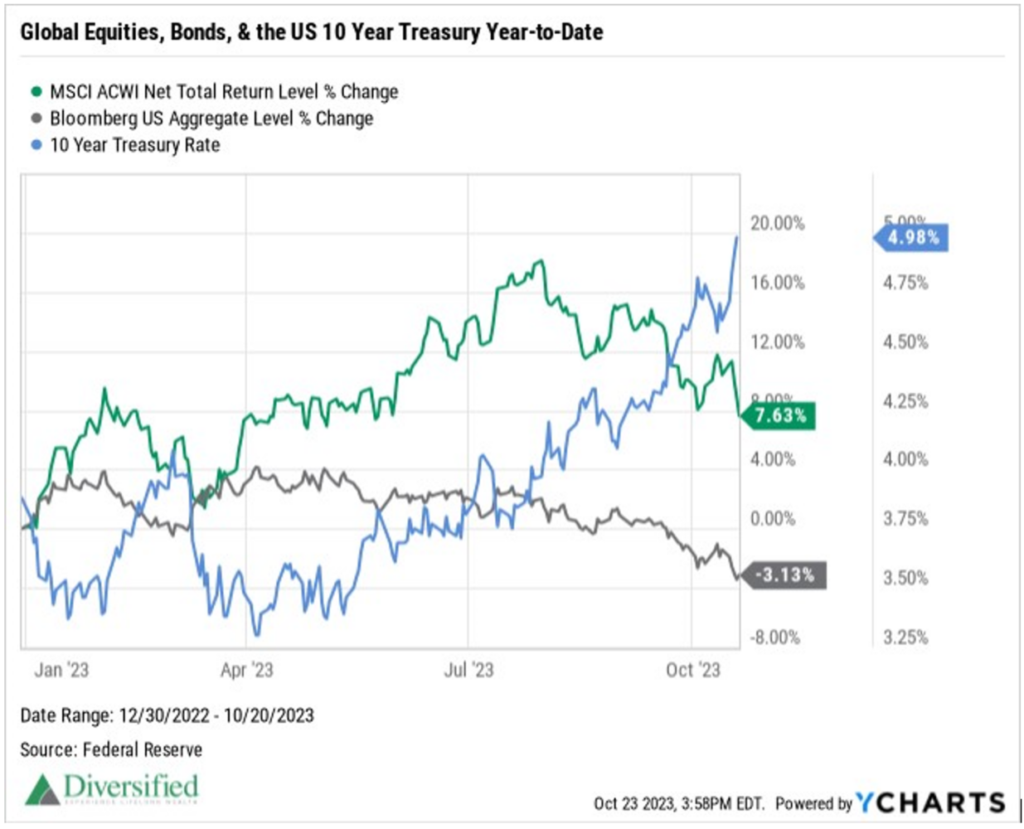 US Retail Sales
Positive economic surprises may have helped push yields higher. US retail sales for September rose by 0.7% as reported by the Commerce Department. This was nearly double consensus expectations and showed the resilience of the American consumer.
FOMC
A speech by Fed Chair Jerome Powell on Thursday was also perceived as arguably more hawkish than recent comments from the Fed. While investors highly expect no change to the benchmark rate at the FOMC November meeting, Powell's comments reiterated that inflation still remains too high, and more interest rate hikes could be on the table if economic data continues to show stronger than expected.
Q3 GDP
This week the US Government will release its initial estimate of Q3 GDP. Revised second-quarter GDP showed an annual growth rate of 2.1%, and economists are expecting another positive quarter despite economic uncertainty throughout the year.
I'd like to leave you with the final line we've used since we started these commentaries back at the very height of market volatility in March 2020. Always remember that we create financial/investment plans not for the easy times, but to prepare for the tough ones.