Equities Start Positive to Begin 2023
Equity markets began 2023 on a positive note rising on the shortened first trading week of the year. Global equities (represented by the MSCI All Country World Index) were up 2.00%, and domestic stocks (represented by the S&P 500 Index) were up 1.47%.
FOMC Meeting
The December FOMC meeting minutes released last week emphasized their stance of higher interest rates as long as needed to bring down inflation and restore price stability. The meeting minutes also revealed that "no participants anticipated that it would be appropriate to begin reducing the federal funds rate target in 2023" which curtailed investor hopes for rate cuts this year.
Payroll Report
Friday's payroll report seemed to move sentiment in a positive direction as the US labor market continued to show strength with modest cooling. The US economy added 223,000 nonfarm payrolls in December which was the lowest increase in 2022 but higher than consensus expectations. The unemployment rate retreated back to post-pandemic lows of 3.5% in December from 3.6% the previous month. Continued job growth was accompanied by moderating wage growth as the year-over-year average hourly earnings dropped to 4.59%, the lowest reading since September 2021. The S&P 500 rallied over 2% Friday following the release of employment data.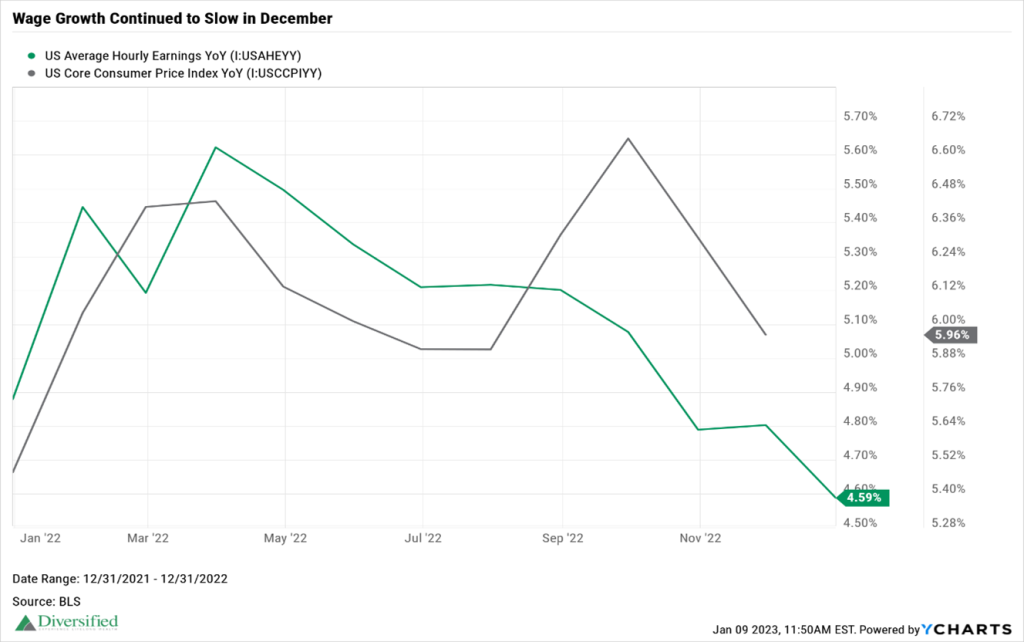 Earnings Season
Earnings season for Q4 of 2022 kicks off this week as major banks prepare to release their results. With the current economic environment, analysts have lowered Q4 estimates for S&P 500 companies by an average of 6.5% over the past three months. According to Factset, the average decline to bottom-up earnings-per-share estimates during a quarter has been 3.8% over the past 20 years.
Consumer Price Index
This Thursday the US Consumer Price Index for December is slated to be released. Investors look for sustained moderation of inflation through December as the Fed continued to emphasize their goal of taming inflation with higher interest rates. US CPI rose 7.1% on a year-over-year basis in November, the smallest annual increase since December 2021.
I'd like to leave you with the final line we've used since we started these commentaries back at the very height of market volatility in March 2020. Always remember that we create financial/investment plans not for the easy times, but to prepare for the tough ones.