Global Equities Rise for Three Straight Weeks
Global equities rose slightly last week for the third straight winning week. We saw global markets (represented by the MSCI All Country World Index) up 0.31% and domestic stocks (represented by the S&P 500 Index) up 0.39%.
US Jobs Report
The US jobs report on Friday showed an exceptionally strong addition of nonfarm jobs in July of 528,000. Economists expected this number to be around 250,000. The unemployment rate fell slightly by 0.1%, landing at 3.5%. Equity markets seemed to act negatively to the strong labor market statistics as investors reassess the pace of upcoming Federal Reserve interest rate hikes.
Corporate Earnings
Corporate Earnings season continued last week and showed improvement. As roughly 87% of S&P 500 companies have now reported second-quarter results, 75% of these companies have had positive earnings surprises. While more companies have issued negative earnings guidance for the third quarter, investors have seemed to shake these forecasts off and welcomed any positive earnings surprises more than usual. According to FactSet, companies with Q2 positive earnings surprises have averaged a stock price increase of 2.1% from 2 days prior to 2 days post earnings releases while the 5yr average increase is 0.8%.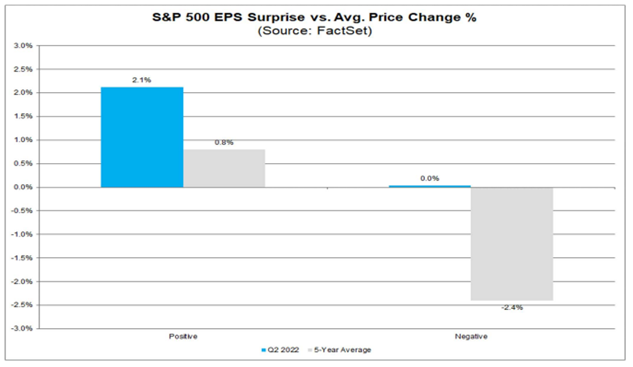 Crude Oil Prices
US Crude Oil prices continued to fall to around $88 on Friday which was near a 10% drop for the week. Oil prices have not been at this level since February when Russia invaded Ukraine.
Interest Rates
The Bank of England raised interest rates by 0.50% to combat surging inflation. This rate hike was the largest increase in 27 years by the central bank. Policymakers don't expect inflation to calm back to their 2% target for another 2 years, and they are forecasting a recession starting this winter lasting approximately 5 quarters.
Consumer Price Index
Looking ahead to this week, the Consumer Price Index report is scheduled to be released Wednesday which will give more insight into inflation over the past month.
I'd like to leave you with the final line we've used since we started these commentaries back at the very height of market volatility in March 2020. Always remember that we create financial/investment plans not for the easy times, but to prepare for the tough ones.