The Fed Accelerates its Interest Rate Hikes
Global Markets
Global equity markets fell across the board last week. We saw global markets (represented by the MSCI All Country World Index) down -5.7% and domestic stocks (represented by the S&P 500 Index) down -5.8%.
The Federal Reserve Accelerated Interest Rate Hikes
The biggest news of the week came on Wednesday, when the Federal Reserve pushed the Fed funds rate 0.75% higher, up to a range of 1.5% to 1.75%. Up until early last week, expectations were for a 0.50% increase.
Front Loading Interest Rates
Why the more aggressive increase in rates? At this point, the Fed members are willing to be more aggressive with interest rates to slow the path of inflation. With the May inflation report remaining high, they're essentially "front-loading" the interest rate increases and have slightly increased where they believe the neutral rate lands. The term "front-loading" refers to raising interest rates quicker up front rather than slowly raising them over a longer period. As it stands today, the Fed estimates that they will move short-term rates up to 3.5% by year-end and 3.75% in 2023.
Inflation is Global
As we've said several times, inflation is a global issue rather than a domestic one. As such, the Bank of England raised interest rates for the fifth meeting in a row as it works to reign it in.
Mortgage Rates
With rising short-term interest rates, we've seen a corresponding rise in mortgage rates. The 30-year fixed-rate mortgage is now up around 5.75% (source: Freddie Mac). Just a year ago, that same mortgage cost under 3%. This will certainly slow the housing market, the question turns to when that happens and to what extent.
Inflation Expectations
With inflation in the spotlight for the first time in a long time, I thought the below was a great graphic. The three lines represent inflation expectations from randomly surveyed consumers (purple), expectations from professionals (blue), and the actual rate of inflation (red). You can see that long-term inflation rates haven't moved much, and often both consumers and professionals overestimate inflation rates.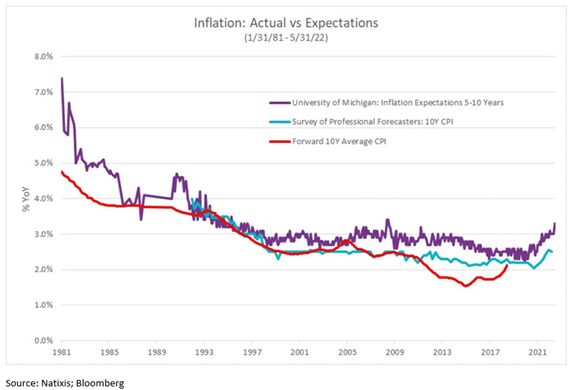 I'd like to leave you with the final line we've used since we started these commentaries back at the very height of market volatility in March 2020. Always remember that we create financial/investment plans not for the easy times, but to prepare for the tough ones.