Inflation Remains Elevated
In a holiday-shorted week, markets were mostly negative. We saw global markets (represented by the MSCI All Country World Index) down -1.6% and domestic stocks (represented by the S&P 500 Index) down -2.1%.
In a much-anticipated inflation report, the Consumer Price Index came out at 8.5% for the month of March. Given the elevated level above the Fed's 2% target, bond yields rose as expectations for aggressive interest rate hikes increased. When removing food and energy from the calculation (which is called core inflation), the March monthly figure was 6.5%.
Inflation Across the Globe
The inflationary environment isn't just a domestic issue. Last week the U.K. reported its March inflation figure, which end up at 7% for the month.
Corporate Earnings
Investors should keep an eye on corporate earnings as reports begin picking up. Big banks started last week, and the results were mixed, which isn't too unexpected given the high year-over-year comparisons from Q1 2021 being a big recovery quarter. While earnings are in line to be strong and remain that way the rest of the year, investors should expect for concerns over inflation, especially labor costs, to be mentioned by management on these calls.
Bond Yields
With bond yields rising along with expectations for interest rate increases from the Fed, the mortgage industry has certainly changed in a matter of months. The 30-year fixed-rate mortgage is up around 5%, which is the highest level in over 10 years.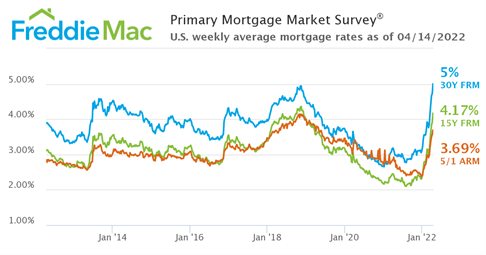 I'd like to leave you with the final line we've used since we started these commentaries back at the very height of market volatility in March 2020. Always remember that we create financial/investment plans not for the easy times, but to prepare for the tough ones.
The views expressed in this commentary are subject to change and are not intended to be a recommendation or investment advice. Such views do not take into account the individual financial circumstances or objectives of any investor that receives them.
All indices are unmanaged and are not available for direct investment. Indices do not incur costs including the payment of transaction costs, fees and other expenses. This information should not be considered a solicitation or an offer to provide any service in any jurisdiction where it would be unlawful to do so under the laws of that jurisdiction. Past performance is no guarantee of future results.
Financial planning and Investment advisory services offered through Diversified, LLC. Securities offered through Purshe Kaplan Sterling Investments, Member FINRA/SIPC Headquartered at 80 State Street, Albany, NY 12207. Purshe Kaplan Sterling Investments and Diversified, LLC are not affiliated companies.