After consecutive negative weeks, global markets were positive across the board last week. We saw global markets (represented by the MSCI All Country World Index) up 3.1% and domestic stocks (represented by the S&P 500 Index) up 3.9%.
It has become a recurring theme that the Fed, and their projected policies, dominate financial news cycles. Last week Fed Chair Jerome Powell made some comments about their path forward. For starters, he said that the word "transitory" shouldn't be used anymore, which indicates that their feelings on inflation have changed a bit. Additionally, they indicated that they may accelerate their asset purchase tapering by a few months, meaning they would possibly increase the monthly reduction in how much they buy and finish the taper by March. The natural concern is that markets take this as a sign that interest rate increases could come sooner than expected.
We saw another strong labor market report last week. It was reported that initial claims for unemployment benefits fell to their lowest weekly level in decades. The trend of job openings versus individuals looking for work really highlights how tight the labor market is at this time.
The November Consumer Price Index (CPI) report was released last week. Headline inflation was reported to be 6.8%, while core inflation (which removes energy and food prices) came in at 4.9%. Both of those figures are year-over-year numbers.
For those of you who listened in to our Virtual Market Insight Event last Thursday, we spoke about the dual-mandate of the Fed. That means they have an objective to maintain full employment and low inflation (targeting 2%). Below is a chart showing recent CPI and unemployment rate. You can see that while unemployment continues to drop, inflation has been picking up since early 2021. The Federal Reserve manipulates short-term interest rates and money supply in an effort to hit these objectives.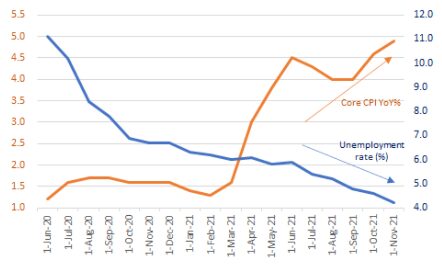 I'd like to leave you with the final line we've used since we started these commentaries back at the very height of market volatility in March 2020. Always remember that we create financial/investment plans not for the easy times, but to prepare for the tough ones.