Stocks were mostly negative last week. We saw global markets (represented by the MSCI All Country World Index) down -2.4% and domestic stocks (represented by the S&P 500 Index) down -2.2%.
As we turn the page to the fourth quarter, below are figures for the month of September and year-to-date through the end of the month:
| | | |
| --- | --- | --- |
| *as of 9/30/2021 | Sept | YTD |
| MSCI All Country World Index (Global Stocks) | -4.1% | 11.1% |
| Barclays U.S. Aggregate Bond Index | -0.9% | -1.6% |
| Barclays Municipal Bond Index | -0.7% | 0.8% |
Despite the volatility for both domestic and global stocks in September, the negative month comes after seven straight months of positive returns from February through August.
U.S. bond yields rose last week as investors absorbed the Federal Reserve's comments. At points during the week, the 10-year Treasury bond traded at a yield above 1.5%. That indicates investors interpreted the Fed's comments to be more hawkish, which would be more likely to raise rates and taper sooner than the markets had been pricing in.
On Friday, the September jobs report will be released. In that report, the U.S. Bureau of Labor Statistics will highlight whether or not unemployment continues its methodical drop. The August report showed an unemployment rate of 5.2%.
Don't be surprised if the uncertainty in Washington D.C. will ripple a little bit through the stock markets over the coming weeks. At this point, Congress has to address a potential government shutdown, raise the debt ceiling, and try to pass a bipartisan infrastructure bill. We believe in time these issues will be resolved, but investors need to expect some potential volatility and remain disciplined.
Speaking of unemployment, I wanted to share a graphic of the concern many economists have of the current state of the labor market. This came from Invesco and Macrobond; it shows job openings in dark blue and unemployment in light blue. The concern is that there are currently more job openings than unemployed Americans. According to the U.S. Bureau of Labor Statistics, the difference is at 2.3 million job openings. We'll see where that stands after the next set of labor reports.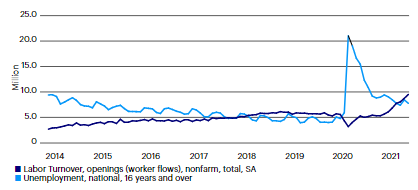 I'd like to leave you with the final line we've used since we started these commentaries back at the very height of market volatility in March 2020. Always remember that we create financial/investment plans not for the easy times, but to prepare for the tough ones.