Markets Rally to End July
Global equities rose last week despite the release of the second quarter GDP contraction and another Federal Reserve rate hike. We saw global markets (represented by the MSCI All Country World Index) up 3.27% and domestic stocks (represented by the S&P 500 Index) up 4.28%.
Equity Markets
Equity markets posted a strong July with the S&P 500 up over 9% for the month. The tech-heavy Nasdaq Composite Index rose 12.35% in July but is still down just over -20% year-to-date.
Federal Funds Rate
In a move to continue tackling high inflation, the US Federal Reserve raised its federal funds target rate by 0.75%. The current range is 2.25%-2.50%, and the range to start 2022 was 0%-0.25%. Markets seemed to react positively to this rate hike as they adjust expectations on the pace of potential rate increases. The below image depicts consensus expectations on where the Fed Funds rate will peak and begin to lower.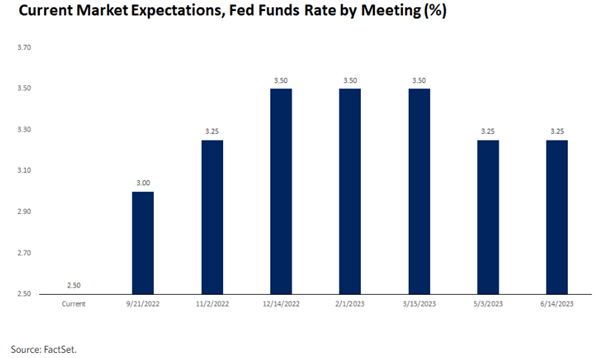 GDP
US second-quarter real GDP was reported Thursday showing a contraction of -0.90% quarter-over-quarter. This is the second consecutive quarter of negative growth which is one common technical definition of a recession. However, Fed Chairman Jerome Powell did note in his press conference on Wednesday that growth may be slowing but there are "too many areas of the economy that are performing too well" for the US to be in a recession currently with the main focus on the strong labor market.
Earning Season Continues
Earnings season continued last week with large tech companies such as Apple, Amazon, and Alphabet (Google's parent company) reporting second-quarter results. With now 56% of S&P 500 companies reporting their results, 73% have reported a better-than-expected earnings surprise.
Labor Market
We look ahead this week at continued earnings reports as well as the monthly US jobs report to better understand the current strength of the labor market. The unemployment rate has remained at 3.6% for the last four monthly readings.
I'd like to leave you with the final line we've used since we started these commentaries back at the very height of market volatility in March 2020. Always remember that we create financial/investment plans not for the easy times, but to prepare for the tough ones.