Stocks were mostly down last week. We saw global markets (represented by the MSCI All Country World Index) down -1.0% and domestic stocks (represented by the S&P 500 Index) down -0.5%. U.S. small companies (represented by the Russell 2000 Index) led the way, up 0.5%.
While inflation (measured by the Consumer Price Index) was 5.3% year-over-year in August, the pace of increase was down from both June and July.
After July's 1.8% decline in retail spending, investors were on alert for slowing economic growth. The August retail sales report eased those concerns, coming in with a surprising increase of 0.7%.
After dropping to roughly $62/barrel in August, oil prices recently rose back above $70/barrel. The relentless storm activity in the Gulf of Mexico has been a concern to production.
The Federal Reserve board meets this week for its periodic two-day meeting. The likely center of attention will be tapering of their asset purchase program. Many investors are looking to see if more clarity around the timing to start tapering will occur, and ultimately the pace at which they reduce the amount they're purchasing each month.
The chart below caught my attention, maybe because I was hungry at the time. The chart, which was pulled from Alger, graphically shows the power of inflation and money supply over long periods of time. You can see how muted inflation has been since 1980. Back in 1928, a 1.5-ounce Hershey's bar cost $0.04 while today its more than a dollar. That means you could buy 25 candy bars about 100 years ago for a dollar, while today that won't even get you one.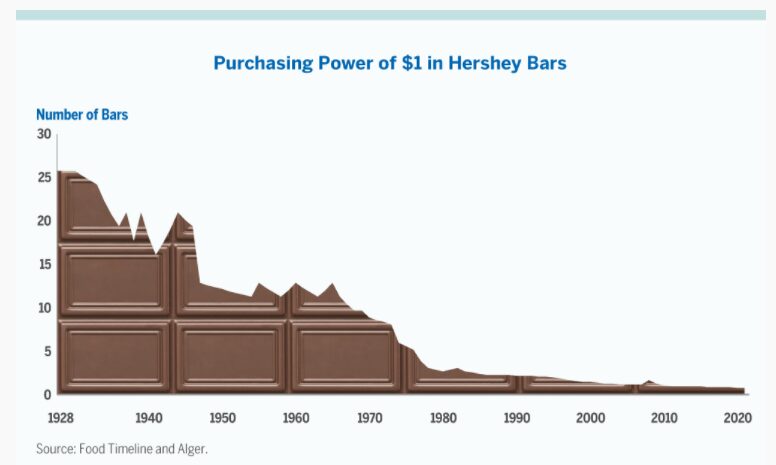 I'd like to leave you with the final line we've used since we started these commentaries back at the very height of market volatility in March 2020. Always remember that we create financial/investment plans not for the easy times, but to prepare for the tough ones.