Stocks were positive across the board last week. We saw global markets (represented by the MSCI All Country World Index) up 1.3% and domestic stocks (represented by the S&P 500 Index) up 1.7%.
The reason for the push forward is corporate earnings reporting. As more and more companies report their Q3 earnings, it's becoming apparent that growth in earnings for the quarter will be sizable. According to FactSet, S&P 500 companies are on track to report the third highest year-over-year earnings growth since 2010. For the full year 2021, earnings growth is projected to be about 40% above 2020.
In our weekly commodity update, oil prices landed around $84/barrel as of Friday. To start the year, prices were closer to $50/barrel.
Once again, Fed Chair Jerome Powell said that it's too early to talk interest rate increases. He has been setting expectations, however, that we'll likely see tapering of their asset purchase program starting in November. Projections still show interest rate increases not likely until late 2022 or early 2023.
Those comments on tapering bond purchases pushed bond yields higher (bond prices dropped). As of Friday, the 10-year Treasury bond yielded about 1.66%, which is the highest level since back in May this year.
We often discuss the role of fixed income (bonds) in a portfolio, which centers primarily around diversification and risk tolerance (amongst other things). The below chart from Morningstar and Edward Jones is a good one that caught my eye, which shows negative calendar-year returns in the stock market and corresponding bond market returns. We've created similar graphics that show this relationship during market "events" and the same principles apply. Bonds have historically provided true diversification from stock market negative volatility.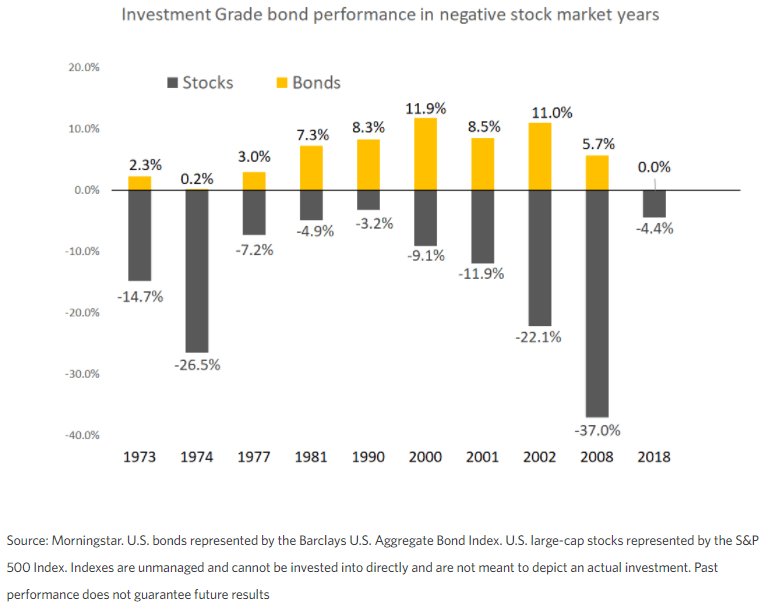 I'd like to leave you with the final line we've used since we started these commentaries back at the very height of market volatility in March 2020. Always remember that we create financial/investment plans not for the easy times, but to prepare for the tough ones.