Volatility Persists
Markets continued their choppiness last week as the volatile month of April came to an end. We saw global markets (represented by the MSCI All Country World Index) down -2.6% and domestic stocks (represented by the S&P 500 Index) down -3.3%.
Equity Volatility
The month of April was a volatile one for equities. The combination of rising interest rate expectations, persistent inflation, and continued fighting in Ukraine were all headwinds. For the month, global markets (represented by the MSCI All Country World Index) were down -8% while domestic stocks (represented by the S&P 500 Index) were down -8.7%. It was the NASDAQ index, which is comprised mostly of domestic technology companies, that lagged the most as it was down approximately 13% in the month.
Treasury Bonds
A big part of this volatility was the expectation, and uncertainly, for the path forward for the Federal Reserve. During the month of April, the 10-year Treasury bond yield rose from 2.32% up to 2.88%. For perspective, that yield was around 1.5% coming into the year and at 1.2% as recently as August of last year. The rapid change in expectations for interest rates has been a huge factor in markets as interest rates do influence asset prices.
Economic Growth
The GDP report for Q1 2022 was released last week and showed that the economy shrank by a 1.4% annualized amount during the quarter. Coming off a year of 5.7% growth, this was a disappointment for markets. The expectations have been that Q1 would be lower than the rest of the year, but disappointing, nonetheless. Most economists believe this is a quarterly blip and expect a rebound in Q2. When we break down the components of GDP in the first quarter, we see that personal consumption was still strong but a combination of reduced exports and inventory spending weighed on the metric.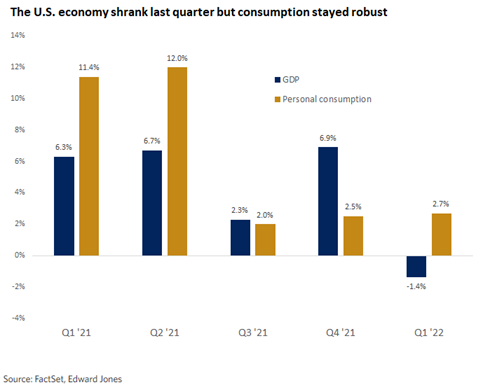 FOMC
There are two big announcements/reports expected this week. First, the Fed will meet on Tuesday/Wednesday for their next official policy meeting. The expectation is that interest rates are increased by 0.50%. Additionally, we'll see a new monthly labor market report that will detail unemployment. We expect another strong report.
I'd like to leave you with the final line we've used since we started these commentaries back at the very height of market volatility in March 2020. Always remember that we create financial/investment plans not for the easy times, but to prepare for the tough ones.
The views expressed in this commentary are subject to change and are not intended to be a recommendation or investment advice. Such views do not take into account the individual financial circumstances or objectives of any investor that receives them.
All indices are unmanaged and are not available for direct investment. Indices do not incur costs including the payment of transaction costs, fees and other expenses. This information should not be considered a solicitation or an offer to provide any service in any jurisdiction where it would be unlawful to do so under the laws of that jurisdiction. Past performance is no guarantee of future results.
Financial planning and Investment advisory services offered through Diversified, LLC. Securities offered through Purshe Kaplan Sterling Investments, Member FINRA/SIPC Headquartered at 80 State Street, Albany, NY 12207. Purshe Kaplan Sterling Investments and Diversified, LLC are not affiliated companies.