Table of Contents
Equities Extend Winning Streak as Inflation Moderates and Fed Pauses
Equity markets extended their winning streak as the Fed paused rate hikes and inflation continued to show signs of moderation. Global equities (represented by the MSCI All Country World Index) were up 2.71%, and domestic stocks (represented by the S&P 500 Index) were up 2.62%.
The Federal Reserve
The US Federal Reserve concluded their two-day policy setting meeting last Wednesday with the decision to keep their benchmark rate unchanged, breaking their streak of 10 consecutive interest rate increases. However, the dot-plot projections showed the majority of Fed officials expecting at least two more quarter point interest rate hikes this year. While Fed Chair Powell made sure to emphasize progress saying "we've moved much closer to our destination", he also reiterated that future decisions are still dependent on economic growth and inflation data.
Inflation
Inflation data in the form of the Consumer Price Index (CPI) and Producer Price Index (PPI) released last week showed a continued moderating trend. May's headline CPI fell to an annual rate of 4.0%, the slowest pace since March 2021. Core CPI (excludes food and energy prices) rose at a year-over-year rate of 5.3%. While moderating slower than headline inflation, the core CPI print was the lowest reading since November 2021. Core PPI has fallen drastically from its peak in March 2022 of 9.7%. For May, core PPI rose 2.8% on an annualized basis.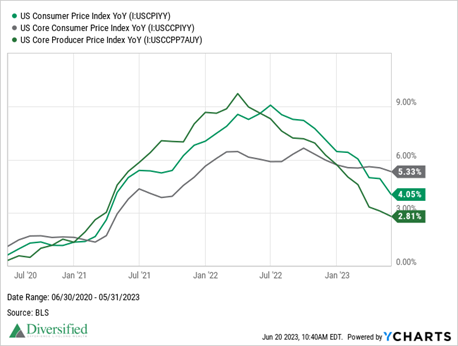 Retail Sales
US retail sales rose 0.3% for the month of May, showing continued consumer spending from the previous month's 0.4% rise. Consumers seem to have weathered inflationary pressures and worries of recession as retail sales rose 1.6% on an annual basis which is the first year-over-year increase since January.
Deposit Rates
As the Federal Reserve held rates steady, the European Central Bank raised their deposit rate by 0.25% to its highest level in 22 years. Differing from the US and Europe, the Bank of Japan kept rates steady at -0.1% as they may look to pivot from their easing policy as inflationary pressures rise.
I'd like to leave you with the final line we've used since we started these commentaries back at the very height of market volatility in March 2020. Always remember that we create financial/investment plans not for the easy times, but to prepare for the tough ones.