Equities Rally Amid Fed Chair Powell's Speech
Equity markets rose last week as investors were encouraged by Fed Chair Powell's comments on a potential slowdown to the pace of interest rate hikes. Global equities (represented by the MSCI All Country World Index) were up 1.38%, and domestic stocks (represented by the S&P 500 Index) were up 1.19%. Both global and domestic equities ended November with positive returns following October's strong month which marks the first back-to-back monthly gain since August 2021.
FOMC Rate Hikes
The weekly equity gains came primarily from strong performance on Wednesday with the S&P 500 rising over 3%. This rally was sparked by a speech from US Federal Reserve Chair Jerome Powell indicating that a slower pace of rate hikes could come as soon as the FOMC's December meeting. The Fed has raised their fed funds rate by 0.75% at each of their last four meetings.
Labor Market Reports
Labor market reports last week continued to show resilience as 263,000 nonfarm payrolls were added to the US economy in November, well exceeding expectations of 200,000. The unemployment rate remained at 3.70% for November, still near decade-lows, while annual wage growth rose to 5.1% from 4.9%. However, the amount of job openings fell to around 10.33 million, slightly below expectations and down from year-highs of 11.86 million in March.
US Core Personal Consumption Expenditure Price Index
The US core Personal Consumption Expenditure (PCE) price index, the Fed's preferred inflation gauge, moderated slightly to 5.0% year-over-year from 5.2% in September. However, the manufacturing sector fell into levels of a contractionary environment for the first time since May 2020 according to the reading of the Institute of Supply Management's manufacturing Purchasing Managers' Index (PMI). The index tracks manufacturing activity such as new orders, inventories, and production.
Bottom-Up Earnings
With nearly all S&P 500 companies now having reported Q3 earnings, the blended earnings growth rate is 2.5% according to Factset, which would mark the lowest rate by the index since Q3 of 2020. Analyst estimates for Q4 earnings have also decreased with continued risk of recession. In just two months from September 30th to November 30th, Q4 bottom-up earnings-per-share (EPS) estimates fell by 5.6% with nine out of eleven sectors having downward revisions to expectations.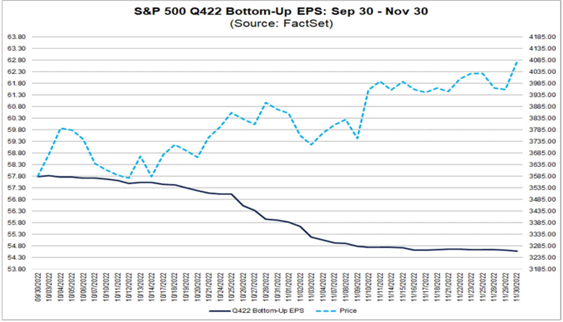 I'd like to leave you with the final line we've used since we started these commentaries back at the very height of market volatility in March 2020. Always remember that we create financial/investment plans not for the easy times, but to prepare for the tough ones.