Table of Contents
Equities Inch Higher Ahead of Inflation Report and Fed Decision
Equity markets inched higher last week ahead of this week's consumer inflation report and the Fed's next policy rate decision. Global equities (represented by the MSCI All Country World Index) were up 0.60%, and domestic stocks (represented by the S&P 500 Index) were up 0.41%.
The S&P 500
The S&P 500 continued its winning streak to four straight weeks of gains. While still about 10% from record highs set the first few trading days of 2022, the S&P 500 is now up over 20% from the lows of October marking the technical start of a new bull market. The strong start for equity markets in 2023 has been welcomed following a tough 2022, but investors remain cautious as the potential for economic slowdown still looms.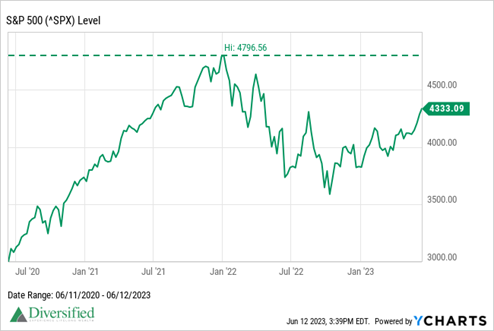 Employment
Weekly jobless claims reported last Thursday showed a larger-than-expected jump to 261,000, the highest level since October 2021. While the past jobs reports have shown continued strength adding more jobs than expected each month to the US economy, an uptick in unemployment claims may hint at a softening labor market.
PMI
The Institute for Supply Management's (ISM) services PMI reading for May showed continued expansion but at a slower pace from the previous months. A positive takeaway from the survey was declining services prices as inflation was stickier in the space compared to prices for other goods which have moderated substantially over the past months.
CPI
The US Bureau of Labor Statistics is slated to report the most recent Consumer Price Index (CPI) on Tuesday which will give more insight into the trend of inflation. Headline CPI dropped to 4.9% on a year-over-year basis in April from the high of 9.1% in June 2022.
The Federal Reserve
Following the CPI report, the US Federal Reserve will conclude its policy meeting Wednesday. The consensus expectations are for the Fed to pause interest rate hikes and keep their benchmark rate at a range of 5.00-5.25%. A pause would break the streak of 10 consecutive rate increases which started in March 2022.
I'd like to leave you with the final line we've used since we started these commentaries back at the very height of market volatility in March 2020. Always remember that we create financial/investment plans not for the easy times, but to prepare for the tough ones.