Equities Fall to End the First Half of 2022
Global Markets
Global equity markets fell to end the first half of 2022. We saw global markets (represented by the MSCI All Country World Index) down -2.17% and domestic stocks (represented by the S&P 500 Index) down -2.18%.
Personal Consumption Expenditures
May's Personal Consumption Expenditures data was released last week which signaled a slight pullback in consumer spending with a positive surprise on inflation. Consumer goods purchases fell by -1.6% in May while purchases of services rose by 0.3%. While spending seemed to slow, the core PCE price index (excludes food and energy) was reported at 4.69% year-over-year which was slightly below expectations and the lowest reading since November that may signal easing inflationary pressures. Manufacturing PMI (Purchasing Managers Index) decreased by -5.53% from last month to 53.00. For reference, a reading above 50 is generally accepted as an expansionary manufacturing figure while a reading below 50 would indicate a tightening of the manufacturing economy.
US Bureau of Labor Statistics
US weekly jobless claims stayed inline with the last 4 readings around 231,000. The US Bureau of Labor Statistics will provide their monthly update this Friday which will give more insight into job growth for the month of June as well as the current unemployment rate. The latest reading from May was 3.6% which has remained the same since April.
S&P 500
With the S&P 500 ending the first half of 2022 in bear market territory (down more than -20% from highs), we remind investors that bear markets are common and are usually short-lived compared to the following bull markets. According to S&P Dow Jones Indices, a bear market occurs on average every 56 months. While enduring a bear market may feel never ending, the below chart depicts how short-lived and less severe they usually are in comparison to their bull market counterpart. Declining prices can also help valuations. For instance, the S&P 500's forward Price-to-Earnings ratio is now trading at 15.9 which is almost in line with the 20-year average of 15.5. For reference, the S&P 500 was trading at 20.5 times forward earnings in the beginning of January 2022.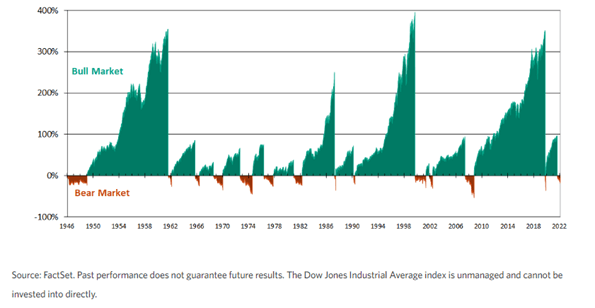 I'd like to leave you with the final line we've used since we started these commentaries back at the very height of market volatility in March 2020. Always remember that we create financial/investment plans not for the easy times, but to prepare for the tough ones.