Markets Rise on Slowing Economic Data
Global Markets
Global equity markets bounced back and rose from the lows of the previous week. We saw global markets (represented by the MSCI All Country World Index) up 4.8% and domestic stocks (represented by the S&P 500 Index) up 6.5%, breaking a three-week streak of negative returns. The Nasdaq composite index, heavily comprised of technology companies, posted a strong 7.5% gain for the week..
S&P 500
All S&P 500 sectors besides Energy posted positive returns last week. US Crude Oil continued to fall from its recent highs to $107 per barrel.
The Fed Indicates More Rate Hikes to Come
Fed Chairman Jerome Powell testified before Congress on Wednesday and Thursday of last week. He reiterated that the Fed remains "strongly committed to bringing inflation back down". However, he did note that a recession is possible and that achieving a soft landing will be difficult with the added pressures of war, supply chain issues, and commodity prices. While still indicating more rate hikes to come, he also made known that a shift to cutting rates would only happen with clear evidence that inflation "really is coming down".
Rate Increase Slowing Inflation
Weekly economic data signaled that the Fed's aggressive rate increases may be slowing down the economy as intended to curb inflation. The average 30-year fixed rate mortgage continued its climb to 5.81% which has not been reached since 2008 (source: Freddie Mac) as well as existing home sales falling to their lowest level since June 2020. Manufacturers have also slowed production with existing inventory being held and the potential of demand for goods declining looming in the horizon. The 10-year US Treasury yield retreated to 3.13% to end the week following Powell's comments and economic readings.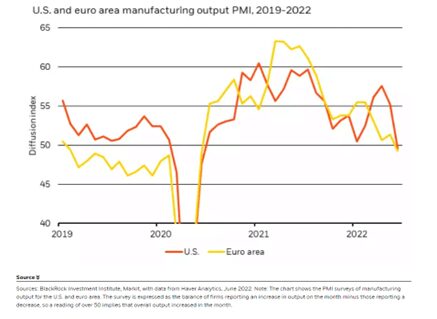 Personal Consumption Expenditures Price Index
Looking ahead, the Fed's preferred inflation tracking gauge, the Personal Consumption Expenditures Price Index, will be released this Thursday which may indicate that inflationary pressures are easing.
I'd like to leave you with the final line we've used since we started these commentaries back at the very height of market volatility in March 2020. Always remember that we create financial/investment plans not for the easy times, but to prepare for the tough ones.