Table of Contents
Equities Inch Higher Even with Yields Ticking Up
Equity markets inched higher during a relatively light week of economic data releases. Global equities (represented by the MSCI All Country World Index) were up 0.56%, and domestic stocks (represented by the S&P 500 Index) were up 1.35%.
Treasury Yields
Treasury yields changed course midway through the week last week as Thursday's 30-year US Treasury bond auction had the weakest demand in two years. Comments from Fed Chair Jerome Powell also pushed rates higher as he said the central bank's policy may not be in a restrictive enough position to tame inflation down to target. Yields rose following the comments as the 2-year Treasury yield rose back above 5.00%.
Consumer Sentiment
The University of Michigan's preliminary reading of consumer sentiment showed the fourth consecutive month of declines and the lowest reading in six months. Weighing on sentiment were higher short-term inflation expectations, higher interest rates, and concern around geopolitical risks.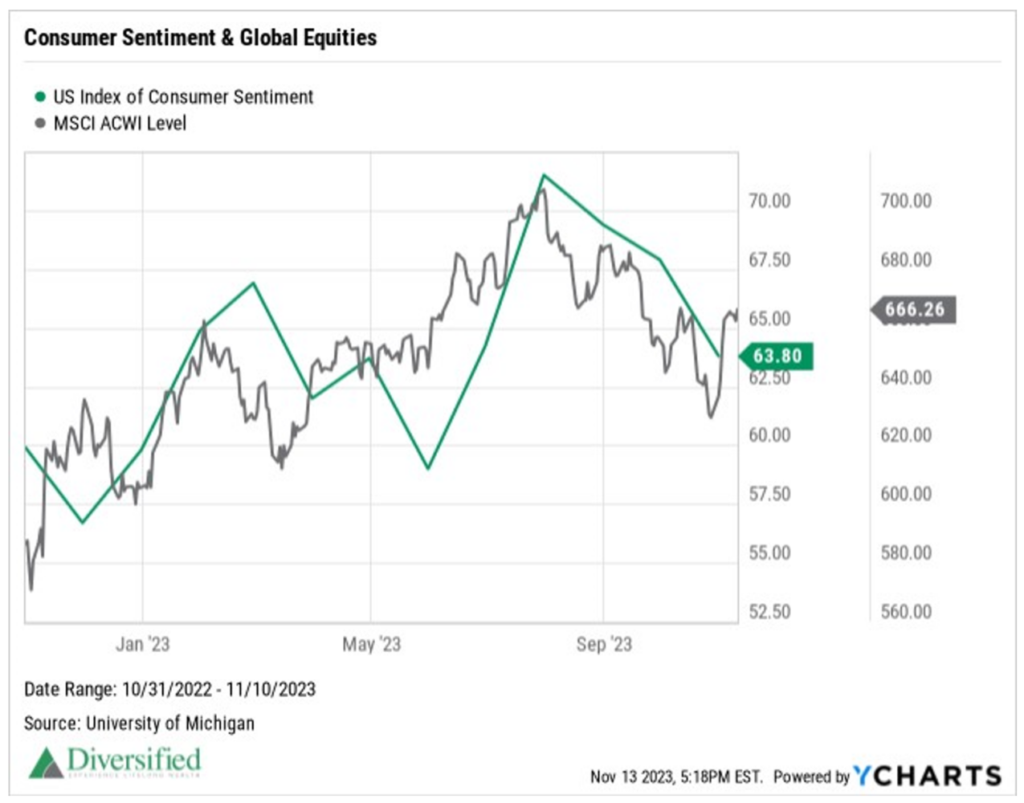 S&P 500
With over 90% of S&P 500 companies reporting Q3 earnings, the blended earnings growth rate for the S&P 500 currently is around 4.1%, which would mark the first quarter of year-over-year earnings growth in a year. According to FactSet, analysts are estimating a more subdued earnings growth forecast for Q4 of around 3.2% but project growth to pick up in Q1 and Q2 of 2024 around 6.7% and 10.5% respectively.
Consumer Price Index
This week the Consumer Price Index report is scheduled to be released as investors await to see the most recent trend in inflation. In September, headline annual inflation remained the same as the month prior at 3.7% while core inflation (excludes food and energy) dropped to 4.1% from 4.3% in August.
I'd like to leave you with the final line we've used since we started these commentaries back at the very height of market volatility in March 2020. Always remember that we create financial/investment plans not for the easy times, but to prepare for the tough ones.