Table of Contents
Equities Mixed as Debt Ceiling Dominates Headlines
Equity markets were mixed last week as the status of debt ceiling negotiations weighed on investors' minds. Global equities (represented by the MSCI All Country World Index) were down -0.5%, and domestic stocks (represented by the S&P 500 Index) were up 0.3%.
Tech
The clear winner last week was the technology sector, driven by the strong earnings report from Nvidia. For the week, the sector was up nearly 5% and is now up over 30% for the year.
Debt Ceiling
While the debt ceiling continues to weigh on sentiment in markets, it was reported that party leadership reached a deal over the weekend to raise the ceiling and avoid any default risk for now. Assuming leadership can sell this deal to each of their parties, Congress should be able to vote and pass the bill this week.
Inflation
Inflation data released last week continued to show a persistently high level. The Personal Consumption Expenditures Price Index (PCE) is one of the measures that the Fed reviews for inflation data and the April numbers were higher than March. This reverses the trend of falling inflation and now puts another interest rate hike back on the table. We saw bond yields rise last week, which aligns with the fact that markets are now putting a higher probability that the Fed will raise rates another 0.25% at their next meeting in mid-June. Below are the updated market-implied probabilities from CME Group.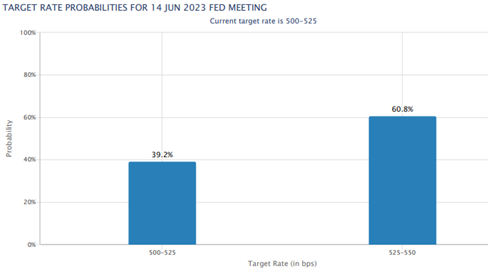 Earnings
With most U.S. companies releasing earnings for Q1, we're now starting to get a better aggregate picture. One interesting note is that while some companies (see Nvidia above) have done very well, in aggregate the businesses in the S&P 500 had an average decline of 2.2% for their earnings versus Q1 in 2022. The strength of earnings and profit margins will be tested throughout the remainder of 2023.
Economic Data
With the month of May coming to an end this week, we have some important economic data being released. On Thursday, we'll get the updated ISM Manufacturing data along with an updated jobs report (unemployment) on Friday.
I'd like to leave you with the final line we've used since we started these commentaries back at the very height of market volatility in March 2020. Always remember that we create financial/investment plans not for the easy times, but to prepare for the tough ones.