Table of Contents
Equities Rise as the Debt Ceiling is Resolved
Resolution to the debt ceiling and a strong jobs report helped propel the S&P 500 to its third consecutive weekly gain. Global equities (represented by the MSCI All Country World Index) were up 1.61%, and domestic stocks (represented by the S&P 500 Index) were up 1.88%.
Debt Ceiling
As the US Treasury Department estimated that potential credit default could happen as early as this week, lawmakers came down to the wire on an agreement to lift the debt ceiling for an additional two years last week. With the House of Representatives passing the bill on Wednesday and the Senate on Thursday, President Biden signed the bill into law on Saturday emphasizing the compromise between parties to avoid "economic crisis and an economic collapse".
Unemployment
While the unemployment rate ticked up to 3.70% in May from 3.40%, the economy added 339,000 nonfarm payrolls for the month, heavily exceeding the consensus expectations of around 190,000. Average hourly earnings grew at a slower annual pace in May of 4.30% compared to the previous month's 4.35%. While moderating wage growth is not usually viewed as a positive, it can be interpreted by the Fed as a driver to keep pushing inflation down and another reason to conclude rate hikes.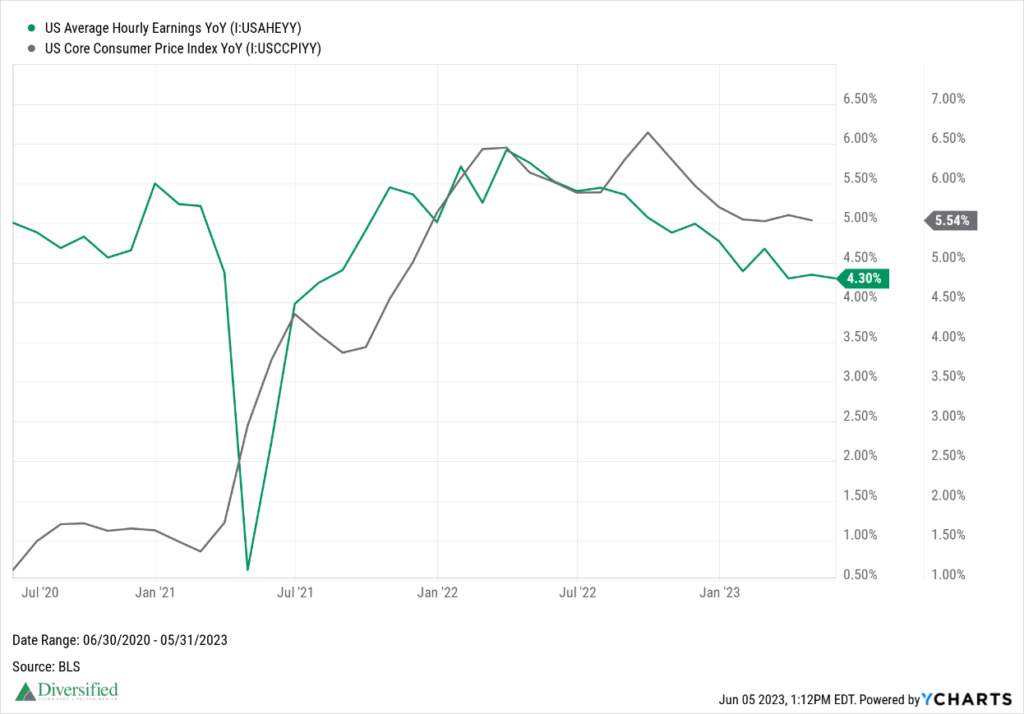 Manufacturing
The Institute for Supply Management's (ISM) manufacturing Purchasing Manager's Index (PMI) showed the seventh consecutive month in a contractionary environment. However, the report showed that prices paid contracted at the quickest pace year-to-date while expectations were for a slight increase. New orders also declined in May.
Economic Data
This week is relatively light on scheduled economic data releases. The ISM services PMI is slated to be released Monday which will give insight into nonmanufacturing activity. Services PMI has been expansionary for the past 4 months.
I'd like to leave you with the final line we've used since we started these commentaries back at the very height of market volatility in March 2020. Always remember that we create financial/investment plans not for the easy times, but to prepare for the tough ones.