Table of Contents
Equities Rise Headlined by Economic Growth and Easing Inflation
Equity markets rose last week as economic growth maintained positive momentum and another inflation reading pointed towards cooling prices. Global equities (represented by the MSCI All Country World Index) were up 2.14%, and domestic stocks (represented by the S&P 500 Index) were up 2.48%.
GDP Growth
The US economy showed continued growth to finish 2022 as Q4 GDP was reported at a 2.9% annualized rate, higher than the 2.6% consensus estimates. This is the second positive quarter after two consecutive negative quarters to start 2022. Consumer spending remained positive but slowed slightly from the previous quarter, and a sharp drop in residential fixed investment weighed on the growth number.

Personal Consumption Expenditures Price Index
The Personal Consumption Expenditures (PCE) Price Index, the Fed's preferred inflation gauge, came in line with consensus estimates at an annual rate of 5.0% in December, down from November's 5.5% reading. The core index (excluding food and energy) rose 4.4% year-over-year. While still higher than the Fed's 2% long term target, this marked the lowest annual increase in 14 months.
Corporate Earnings
With roughly 29% of S&P 500 companies reporting Q4 results, profit margins and earnings estimates continue to decline as companies face the different environment and higher inflation. According to FactSet, profit margins are currently forecasted to average around 11.4% which would mark six consecutive declining quarters. Although the US Dollar has weakened against other currencies in the past few months, S&P 500 companies who produce a majority of sales outside of the US are actually facing sharper earnings declines than those with a majority of revenue generated domestically.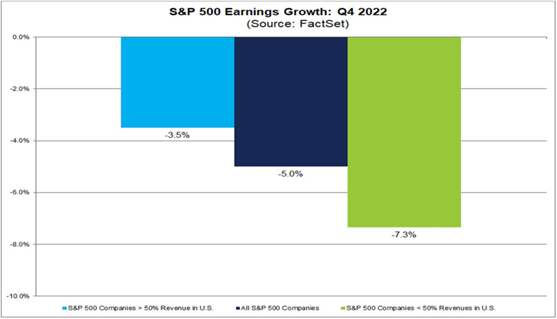 Federal Reserve Meetings
The US Federal Reserve holds their two-day policy meeting this week as investors continue to price in the expected path of rates. Markets are expecting a smaller 0.25% rate increase following an aggressively hawkish Fed in 2022 with seven rate hikes. The monthly jobs and unemployment report will also be released this week as the labor market has shown persistent strength amid the Fed tightening and economic conditions slowing.
I'd like to leave you with the final line we've used since we started these commentaries back at the very height of market volatility in March 2020. Always remember that we create financial/investment plans not for the easy times, but to prepare for the tough ones.