Global Equities Snap Losing Streak
Global equities rose to break the three-week losing streak. Global markets (represented by the MSCI All Country World Index) were up 2.66%, and domestic stocks (represented by the S&P 500 Index) were up 3.68% on the shortened week.
Treasury Yield
The US 10 Year Treasury yield has continued to rise for the sixth straight week as it reached 3.32% on Friday as the market expects further rate hikes. The yield started in 2022 at around 1.50% and was at 2.60% at the beginning of August.
European Central Bank
The European Central Bank increased interest rates by 0.75% as they attempt to fight inflation. The rate hike was the largest in the central bank's history and lifted their deposit rate to 0.75% from 0.00%. Eurozone inflation was recently reported at a 9.1% annual rate.
Crude Oil
US Crude Oil fell to its lowest level in 8 months around $82 last week. At the end of August, oil prices were as high as $97.
CPI
All eyes are looking ahead to this week's Consumer Price Index report for more insight into moderating inflation through August. July's reading dropped to an annual rate of 8.5% from June's reading of over 9%. While the market is pricing in a 0.75% rate hike by the Fed this month, slowing inflationary data could change the expectation of future rate hikes.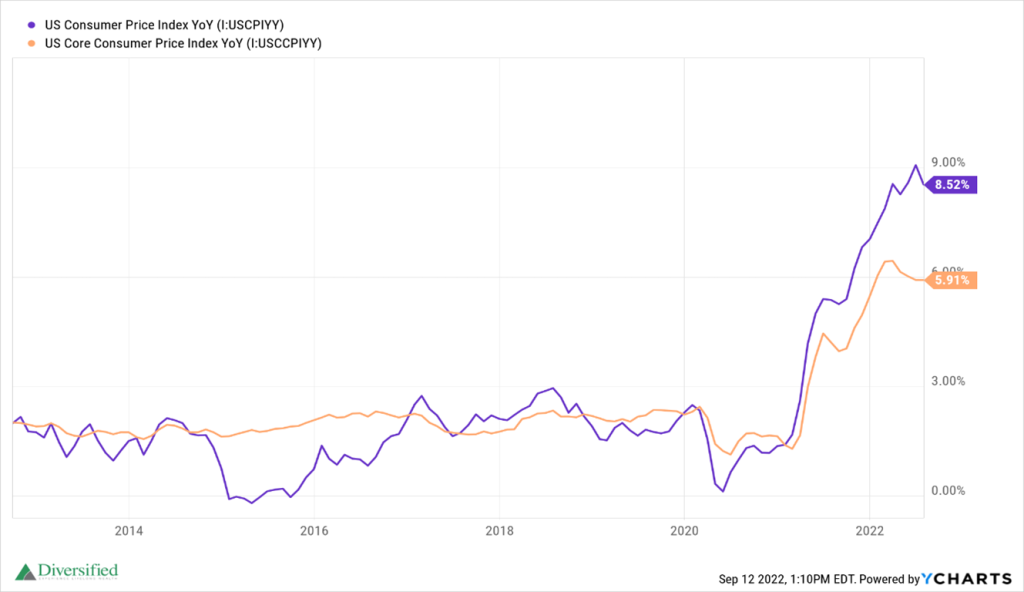 I'd like to leave you with the final line we've used since we started these commentaries back at the very height of market volatility in March 2020. Always remember that we create financial/investment plans not for the easy times, but to prepare for the tough ones.
S&P 500: The Standard & Poor's 500 Composite Stock Price Index is a capitalization-weighted index of 500 stocks intended to be a representative sample of leading companies in leading industries within the U.S. economy. Stocks in the Index are chosen for market size, liquidity, and industry group representation.
Russell 2000: The Russell 2000® Index is a capitalization-weighted index designed to measure the performance of the 2,000 smallest publicly traded U.S. companies based on in market capitalization.  The Index is a subset of the larger Russell 3000® Index.
MSCI All Country World Index: The MSCI ACWI captures large and mid-cap representation across 23 Developed Markets (DM) and 24 Emerging Markets
(EM) countries. With 2,937 constituents, the index covers approximately 85% of the global investable equity opportunity set.
GDP: Gross domestic product (GDP) is the total monetary or market value of all the finished goods and services produced within a country's borders in a specific time period.
The views expressed in this commentary are subject to change and are not intended to be a recommendation or investment advice.  Such views do not take into account the individual financial circumstances or objectives of any investor that receives them.
All indices are unmanaged and are not available for direct investment. Indices do not incur costs including the payment of transaction costs, fees and other expenses. This information should not be considered a solicitation or an offer to provide any service in any jurisdiction where it would be unlawful to do so under the laws of that jurisdiction. Past performance is no guarantee of future results.
Financial planning and Investment advisory services offered through Diversified, LLC. Securities offered through Purshe Kaplan Sterling Investments, Member FINRA/SIPC. Headquartered at 80 State Street, Albany, NY 12207. Purshe Kaplan Sterling Investments and Diversified, LLC are not affiliated companies.
Diversified is a registered investment adviser, and the registration of an investment adviser does not imply any specific level of skill or training and does not constitute an endorsement of the firm by the SEC.
Diversified, LLC does not provide tax advice and should not be relied upon for purposes of filing taxes, estimating tax liabilities or avoiding any tax or penalty imposed by law. The information provided by Diversified, LLC should not be a substitute for consulting a qualified tax advisor, accountant, or other professional concerning the application of tax law or an individual tax situation.
Nothing provided on this site constitutes tax advice. Individuals should seek the advice of their own tax advisor for specific information regarding tax consequences of investments. Investments in securities entail risk and are not suitable for all investors. This site is not a recommendation nor an offer to sell (or solicitation of an offer to buy) securities in the United States or in any other jurisdiction.