Higher Commodity Prices Dominate Headlines
As the Russian invasion continued, markets were mostly negative last week. We saw global markets (represented by the MSCI All Country World Index) down -2.3% and domestic stocks (represented by the S&P 500 Index) down -2.8%. It was developed international markets that rebounded as the MSCI EAFE Index was up 0.6% last week.
Oil Prices
The natural focus has been on commodities, particularly oil prices. After rising close to $130 per barrel early last week, the price dropped back down around $110 for most of the week. With inflation already in the crosshairs of investors and the Fed, markets will pay close attention to how this may or may not affect the pace of the Federal Reserve interest rate increases.
An interesting note about oil production and imports is that the U.S. hasn't been overly reliant on imports from Russia or the Middle East. About 60% of our imports in 2021 were from North America, as you can see below from the Wall Street Journal. The issue is that global prices are driven by global supply and demand, which is where sanctions on Russia have a larger impact.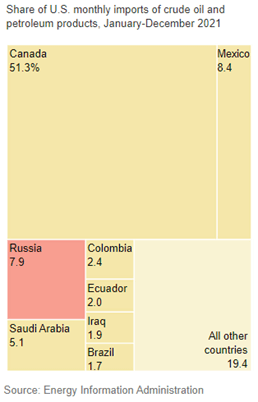 FOMC Interest Rates
Speaking of the Federal Reserve, the FOMC is meeting this week for the normal 2-day meeting. It is widely expected that they will raise interest rates at the conclusion of the meeting and is already priced into markets.
Inflation Report
The U.S. monthly inflation report last week indicated that February's rate was 7.9% on an annual basis. Looking at core inflation (which removes both energy and food prices), the monthly figure was 6.4%.
China's Markets
China's markets were bumpy at the tail end of the week and we fully expect that to continue early this week. There has been a small resurgence in COVID-19 cases and larger-scale lockdowns have taken place.
European Markets
Most of the large European markets bounced back last week. After being volatile at the beginning of the Russian invasion, the markets of France, Germany, and Italy were all up over 2% last week.
I'd like to leave you with the final line we've used since we started these commentaries back at the very height of market volatility in March 2020. Always remember that we create financial/investment plans not for the easy times, but to prepare for the tough ones.