Table of Contents
Positive Economic Data Results Poorly for Equities
A generally positive week of headlines saw equity markets pullback and treasury yields surge. Global equities (represented by the MSCI All Country World Index) were down -2.57%, and domestic stocks (represented by the S&P 500 Index) were down -2.05%.
Retail Sales
The retail sales report for July showed sales rose 0.7% month-over-month, beating estimates of around 0.4%. Online sales contributed the most to the monthly gain, but 9 of 13 retail categories posted increases.
Economic Data
The week's economic data releases were mainly positive as industrial production jumped 1.0% in July, beating expectations and the largest gain since January. Manufacturing output in the mid-Atlantic region also showed growth as well as housing starts and permits.
GDP Growth
Along with positive economic data surprises, the Atlanta Fed's GDPNow forecast estimates growth of 5.8% this quarter, more than double the official Q2 growth rate of 2.4%. While just an estimate and with other economists expecting a slower growth rate, the potential for no recession, or a "no landing" scenario, has gained more traction with the better-than-expected data surprises.
FOMC
Minutes from the Fed's July FOMC meeting were released last week and showed a divide amongst policymakers on whether future rate hikes would be necessary. While taming inflation is their primary goal, some policymakers cited the potential risk on the economy if rates were hiked too far. Investors, however, did not react much to potential further interest rate increases as the continued to highly expect the target federal funds range to remain unchanged through the end of the year, according to the CME FedWatch Tool.
Treasury Yield
Longer-term treasury yields spiked last week as the positive economic data raised expectations for interest rates to remain higher for longer. The 10-year US Treasury yield rose to 4.32% on Thursday, the highest level since November 2007, and the 30-year US Treasury yield reached a level not seen since 2011.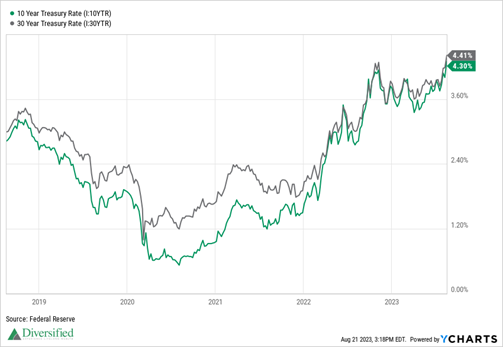 Economic Policy Symposium
This week the US Federal Reserve will hold their annual economic policy symposium in Jackson Hole, Wyoming, including a speech by Fed Chair Jerome Powell. Markets will key in on any commentary around the future path of the Fed and taming inflation down to their long-term target.
Home Sales
Economic data releases will also include new and existing home sales. Existing home sales have fallen in three of the last four months.
I'd like to leave you with the final line we've used since we started these commentaries back at the very height of market volatility in March 2020. Always remember that we create financial/investment plans not for the easy times, but to prepare for the tough ones.