Table of Contents
The Fed's Latest Outlook on Rates Pushes Equity and Bond Prices Lower
Equities markets fell last week amid the US Fed's latest outlook on interest rates. Global equities (represented by the MSCI All Country World Index) were down -2.66%, and domestic stocks (represented by the S&P 500 Index) were down -2.91%.
Unchanged Rates
The Federal Reserve concluded its two-day policy-setting committee meeting this past Wednesday with the highly anticipated decision of leaving their benchmark interest rate unchanged. However, markets reacted to the committee's hawkish shift in their outlook of the median rate for 2024 and 2025. The FOMC's outlook for 2024 rose from 4.6% to 5.1%, and their projection for 2025 rose from 3.4% to 3.9%. 2023's estimate remained at 5.6% which implies an additional potential rate hike this year. The dot plot reinforced Fed Chair Jerome Powell's consistent message of higher rates for longer and continued goal of bringing inflation back down to their long-term target of 2%.
Treasury Yields
Treasury yields surged in reaction to the Fed meeting as the 2- and 10-year US treasury yields pushed to new highs for the past decade. The 2-year yield reached 5.20% in intraday trading while the 10-year yield climbed to 4.49%.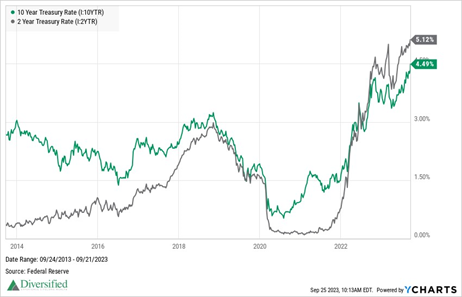 Equities
The Fed meeting and the surge in yields pushed equities lower, leading to the third consecutive week in the red for the S&P 500. Rising yields generally weigh heavier on higher valuation areas of the market, such as the technology sector. This past week saw the tech-heavy Nasdaq slip -3.61%, falling more than other large-cap indices.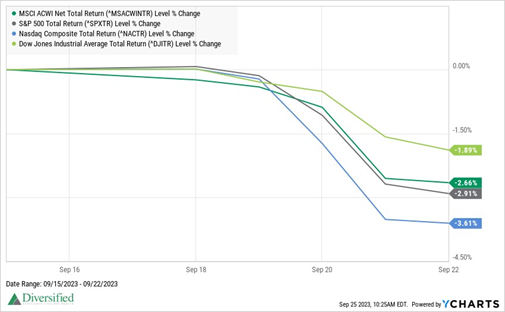 Inflation
This week another inflation report will be released in the form of the Personal Consumption Expenditures (PCE) price index. The last report for July showed prices rise 3.3% on an annual basis, a reversal of the trend lower as June's report showed a 3.0% rate.
I'd like to leave you with the final line we've used since we started these commentaries back at the very height of market volatility in March 2020. Always remember that we create financial/investment plans not for the easy times, but to prepare for the tough ones.