Equities Bounce Back to Start March
Equity markets bounced back last week with unexpectedly strong economic data releases. Global equities (represented by the MSCI All Country World Index) were up 1.91%, and domestic stocks (represented by the S&P 500 Index) were up 1.96%.
US Services Activity Stronger than Expected
US services activity showed stronger than expected in February by the S&P's services PMI gauge and the Institute for Supply Management's (ISM) Services Purchasing Managers' Index (PMI). The S&P's report beat consensus estimates and ended a seven consecutive month streak of contractionary readings. The US ISM services PMI fell slightly to 55.10 in February from January's 55.20 but indicated a continued moderate expansion. The US ISM Manufacturing PMI showed a slight uptick in the manufacturing sector, however, still remaining in contractionary territory for the fourth straight month.
Mortgage Rates Rise
The National Association of Realtors reported an 8.1% jump in US pending home sales from December to January, marking the second straight monthly gain. However, the recent surge in rates may weigh on future home sales numbers. The average 30-year mortgage rate rose to a three-month high last week of 6.65%. The average rate was as low as 6.09% just back in the beginning of February.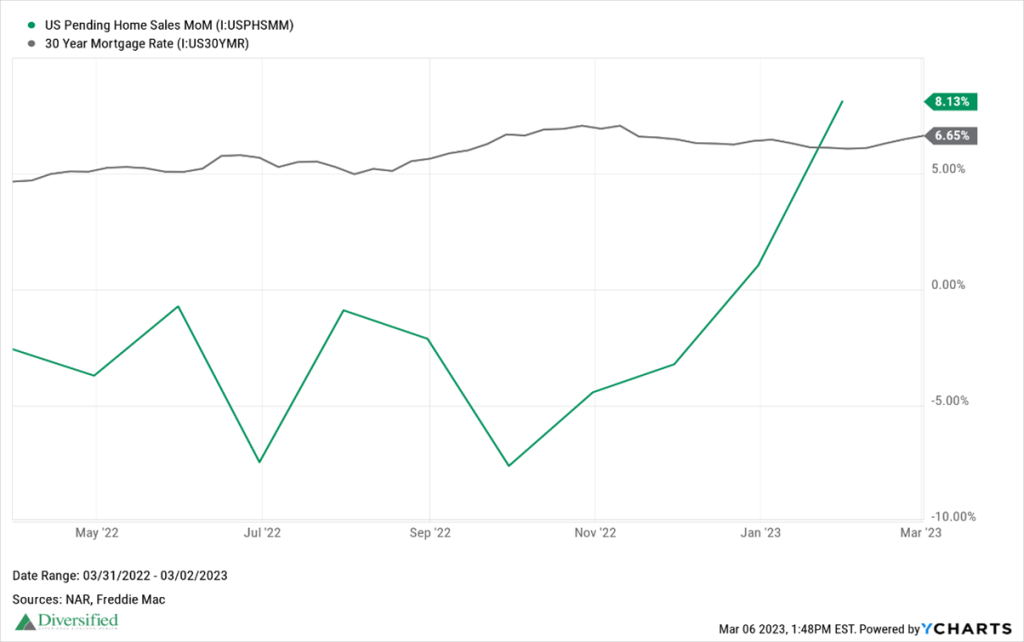 Earnings Reports
With Q4 2022 earnings season coming to a close as 99% of S&P 500 companies have reported results, the average earnings decline for S&P 500 companies was -4.6% for the year according to FactSet. This marks the first year-over-year decline since the third quarter of 2020. Analysts are expecting struggling earnings growth in the first half of 2023 with projected declines of -5.9% and -3.8% for Q1 and Q2 respectively.
Coming Soon
The economic data schedule is light for this week, but the major release will be February's labor market update from the US Bureau of Labor Statistics. This report follows January's hot jobs report of 517,000 new jobs added to the economy and unemployment falling to the lowest level since 1969 at 3.4%.
I'd like to leave you with the final line we've used since we started these commentaries back at the very height of market volatility in March 2020. Always remember that we create financial/investment plans not for the easy times, but to prepare for the tough ones.