Table of Contents
Equities Remain Volatile Amid Bank Woes and Looming Fed Decision
Equity markets were mixed and remained volatile last week as investors weighed concerns in the banking sector and digested new inflation data. Global equities (represented by the MSCI All Country World Index) were down -0.03%, and domestic stocks (represented by the S&P 500 Index) were up 1.47%.
SVB and Other Banks
Following the shutdown of Silicon Valley Bank (SVB) on Friday the 10th, another bank closure that Sunday of New York's Signature Bank sparked more investor worries. However, the Fed, FDIC, and the Treasury Department stepped in to backstop all depositors at both banks even above the $250,000 FDIC insurance limit. These banks were also tailored to different customer bases than a typical retail bank. SVB's customers were concentrated in startup tech and healthcare firms while Signature Bank had a large exposure to the cryptocurrency industry. First Republic Bank and Credit Suisse also made headlines last week as the wave of banking sector struggles continued, but major banks came to the rescue for First Republic bank depositing $30 billion to aid its balance sheet and the Swiss National Bank offering liquidity help to Credit Suisse. To bring into perspective the two bank shutdowns this year, 513 US banks have failed since 2009 according to FDIC. While 2008's failures were mainly derived from excessive risk and bad loans amid a housing market crash, 2023's shutdowns have been isolated to companies with niche clientele experiencing liquidity issues due to an aggressive tightening campaign by central banks.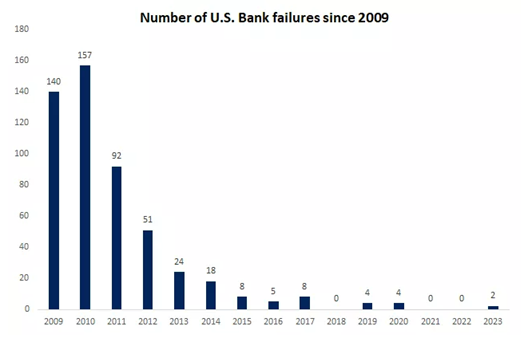 Consumer Price Index
The US Consumer Price Index (CPI) report showed continued moderation to inflation as the index fell for the 8 straight months. The annual rate for February was 6.0%, down from January's 6.4% reading. Core CPI (less food and energy) fell modestly to 5.5% on a year-over-year basis, compared to a previous reading of 5.6%.
Policy Setting and Interest Rates
This week the Fed holds their two-day policy-setting meeting with their next interest rate announcement scheduled for Wednesday. Investors had been expecting a 0.25-0.50% rate hike, however, with the recent events in the banking sector, the CME FedWatch Tool on Friday the 17th showed a 38% probability of no rate change.
I'd like to leave you with the final line we've used since we started these commentaries back at the very height of market volatility in March 2020. Always remember that we create financial/investment plans not for the easy times, but to prepare for the tough ones.