Equities Rise Amid Latest Rate Hike and Fed Statement
Equity markets were largely positive last week amid the latest interest rate move and comments from Fed Chair Powell. Global equities (represented by the MSCI All Country World Index) were up 1.49%, and domestic stocks (represented by the S&P 500 Index) were up 1.41%.
FOMC
The US Federal Reserve raised their benchmark rate by 0.25%, as expected, to a range of 4.75-5.00%. This marks the ninth consecutive FOMC meeting resulting in a rate hike as the Fed continues to bring inflation back down to their 2% long-term target. Language in Fed Chair Powell's statement shifted from "ongoing increases in the target range will be appropriate" to "some additional policy firming may be appropriate" which was interpreted positively from investors that the rate hiking cycle is approaching its end. However, Powell did add that Fed officials "don't see rate cuts this year". Following the past six hiking cycles, the S&P 500 has generally performed well averaging 17.6% returns in the 12 months following, as seen below. Other central banks around the globe also increased their respective interest rates to combat inflation including the Bank of England, Switzerland, and Norway.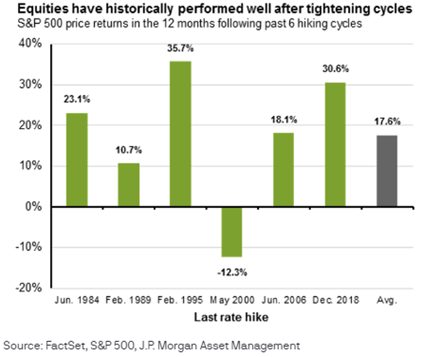 Home Sales
The National Association of Realtors showed that for the first time in 11 years the median existing home sale price declined on a year-over-year basis in February. The median price fell by 0.2% to $363,000.
S&P Global Flash US PMI Composite Output Index
The S&P Global Flash US PMI Composite Output Index, encompassing both services and manufacturing activity, jumped to a 10-month high of 53.3, exhibiting an expansionary environment. Good production rose for the first time since October 2022, and the service sector output rose at the quickest pace since May 2022. While tightening credit conditions may have been accelerated by the recent banking sector turmoil, the US economy still has shown resilience in the labor market and areas of economic activity.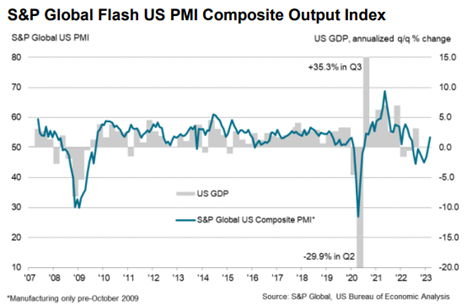 Personal Consumption Expenditures Price Index
The week ahead brings an inflation report in the Fed's preferred inflation gauge, the Personal Consumption Expenditures Price Index. The Index rose 0.6% in January which was the largest monthly gain since June. Readings of Consumer Sentiment and the latest Q4 GDP estimates are also scheduled.
I'd like to leave you with the final line we've used since we started these commentaries back at the very height of market volatility in March 2020. Always remember that we create financial/investment plans not for the easy times, but to prepare for the tough ones.