Equities Rise on Positive Earnings Surprises
Equity markets rose for the week as investors assessed more Q3 earnings releases and the potential pace of future Fed rate hikes. Global equities (represented by the MSCI All Country World Index) were up 3.24%, and domestic stocks (represented by the S&P 500 Index) were up 4.75%.
Corporate Earnings
As of Friday, about 20% of S&P 500 companies have reported Q3 earnings with 72% posting a positive EPS surprise according to FactSet. Q3 earnings growth expectations have now risen to 1.5% compared to the 1.3% growth forecast by analysts just a week prior. While companies still cite inflation and supply chain issues being challenges to their business, many note that resilient consumer spending has aided in beating consensus earnings estimates. Net profit margins for S&P 500 companies are expected to shrink for the fifth quarter in a row, but they still sit above the 5-year average of 11.3%.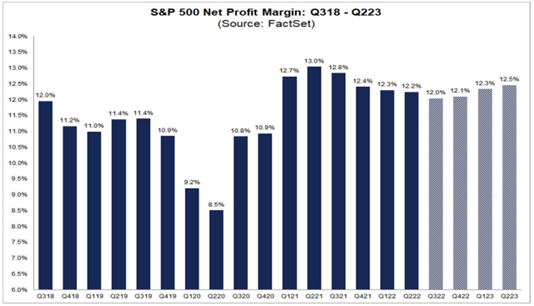 Housing Data
Housing data released last week continued to show the housing market slowing as mortgage rates rise. The average 30-year fixed mortgage rate hit 6.94% last week according to Freddie Mac, which is more than double the 3.11% rate coming into 2022. US existing home sales fell by -1.46% in September from the previous month marking the 8th consecutive monthly decline, and the National Association of Home Builders' Housing Market Index fell to the lowest level since 2020.
Personal Consumption Expenditures Price Index
The week ahead includes a reading of the Fed's preferred inflation gauge, the Personal Consumption Expenditures Price Index (PCE), and initial estimates of Q3 GDP. Some of the largest companies are also slated to report earnings this week such as Apple, Amazon, and Microsoft to name a few.
I'd like to leave you with the final line we've used since we started these commentaries back at the very height of market volatility in March 2020. Always remember that we create financial/investment plans not for the easy times, but to prepare for the tough ones.